Passion for Justice
You May Say He's a 'Dreamer'
Closing the achievement gap for immigrant and low-income students with Jorge Chavez MA '17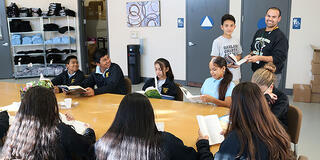 As a young mentor fresh out of college, Jorge Chavez MA '17 saw his fifth-grade students at the Boys and Girls Club of the Peninsula struggling. And it wasn't just bad grades in school and emotional breakups they were grappling with — it was living in neighborhoods with gun violence, worrying about parents who had been deported, and suffering physical and mental abuse at the hands of relatives.
"I realized how unprepared I was to support students who had experienced traumatic episodes in their lives," says Chavez. "It was then that I knew I wanted to pursue a degree in counseling."
In 2015, he enrolled in USF's master's in Loading... program, which prepares educators to be counselors and therapists. Today, Chavez works with the children of immigrants and low-income families, groups especially important to him because he's a "dreamer" — a name taken from the proposed Dream Act and a beneficiary of the Deferred Action for Childhood Arrivals (DACA) policy that temporarily protected minors brought into the U.S. illegally by their parents.
"Reaching Unimaginable Heights"
While finishing his master's degree, Chavez used what he was learning in classes to create a student counseling intervention program for the Amethod Public Schools (AMPS) in Oakland and Richmond — a group of public charter schools focused on reducing the achievement gap among low-income students. The program — bimonthly online questions and reflections — asks students about bullying, stress, and anxiety, then assists them in finding personal strengths to combat these problems.
"The students who participated experienced increased grades, writing ability, and ability to identify personal strengths and apply them to everyday situations," says Chavez, who was hired full-time by AMPS after graduating. The students' answers also helped teachers understand their students better.
Recognized for his dedication
Chavez's dedication and drive haven't gone unnoticed. He's received the School of Education Social Justice Award senior year and also won a graduate research assistantship scholarship, supporting Professor Leyla Pérez-Gualdrón's research on multicultural counseling.
"In my 11 years at USF, I have only met a handful of students as impressive as Jorge," says Professor Christine Yeh, chair of the Department of Counseling Psychology.
Chavez makes a point of sharing his "dreamer" status, including during the USF commencement speech he gave in the spring. The idea, he says, is to inspire other educators and students. With President Donald Trump's decision to let DACA expire, Chavez now worries about his future, as well as the 800,000 other undocumented "dreamers."
"When I completed my master's, I joined a very small group of undocumented students with an advanced degree," says Chavez. "I feel that it's my responsibility to help support the population of undocumented youth who will one day have to overcome their own obstacles."
Know someone with a powerful USF story? Let us know! usfnews@usfca.edu Twitter @usfcanews