Giving
Working to Eradicate Homelessness, One Shower at a Time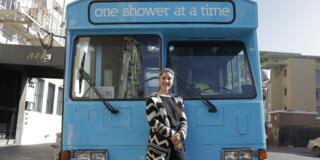 In the spring of 2021, the University of San Francisco's Women in Leadership & Philanthropy initiative awarded its second annual Heart and Soul Community Champion Award to LavaMaeˣ founder, Doniece Sandoval. 
This award acknowledges Bay Area individuals or families who demonstrate care and concern for the underserved in our community.
A 2019 USF Honorary Degree recipient, Sandoval founded Lava Mae in 2013 after she heard an unhoused woman cry out that she would never be clean again. From that point on, Sandoval made it her mission to ensure that everyone had access to their right to cleanliness. Turning retired Muni buses into mobile shower units, she and a small team set out on the streets of San Francisco to help their unhoused neighbors.
Since then, Lava Mae has served more than 32,000 Californians with their mobile hygiene units, providing more than 78,000 showers. Due to the high demand for this high-touch service, Sandoval made it her goal to serve as many people as possible by making this essential service available to other communities. For Sandoval, "The most sustainable solution to community challenges comes from the community itself."
In January 2020, the organization rebranded as LavaMaeˣ and transitioned into a resource organization where they advise and train other organizations on how to bring mobile hygiene units and other essential care services to unhoused people in their communities. They have supported over 250 organizations in 200 communities around the world.
Restoring Dignity through Hygiene
The core value of LavaMaeˣ is rooted in Sandoval's philosophy of radical hospitality; the belief that aiding those in need with tremendous care creates empowerment, unlocks opportunities,
Image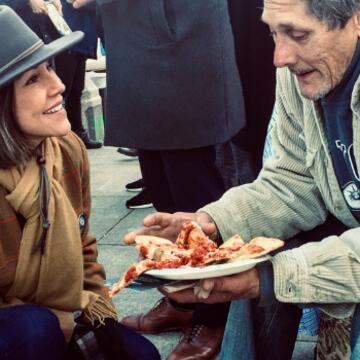 and restores self-worth. Her impactful approach is exemplified in a story she shared of how a suicidal unhoused man in San Francisco's Mission District was watching people go into the mobile showers disheartened and emerge smiling and uplifted. As hopeless as he felt, he thought he had nothing to lose by trying the service. When the water hit his body, he said he began to feel renewed and refreshed, not just physically but mentally. For months he followed LavaMaeˣ around the city, utilizing their services, connecting with staff, volunteers, and other guests. A year later, he received permanent housing. He later told Sandoval that. LavaMaeˣ literally saved his life – not just by providing him with a shower but by seeing him and treating him with respect and dignity.
"Connection is vital. Doing something as small as saying hello and forming that bond, can completely catalyze change in someone, whether we know it or not," says Sandoval.
Although the COVID-19 pandemic has forced the organization to temporarily shut down its shower services, LavaMaeˣ quickly pivoted to create a new program around handwashing stations and developed a COVID-19 hygiene kit. Sandoval and her team wanted to maintain the relationships they had built with their guests, so they continued to visit encampments, bringing supplies and providing people with updated information.
Leading with Care & Collaboration
In 2019, Sandoval stepped down as CEO and now serves as the organization's Strategic Advisor, supporting their Impact goal of serving over 100,000 homeless people by 2024.
Her advice to women and rising leaders in the nonprofit sector is to trust your instincts, embrace and learn from failure and believe that "no" is only the beginning of the conversation.
"I believe women make powerful leaders because, by nature, we are so inherently compassionate and collaborative, and those are qualities that are vital to incredible leadership," says Sandoval.
The biggest challenge Sandoval faced when starting LavaMaeˣ, was that she didn't trust herself as the leader, thinking she had to have all the answers. Coming from a marketing background, she had very little experience in the nonprofit sector or working with the unhoused population. She believes co-creation within a team and collaboration with outside organizations are vital tools to use for great leadership and will enable others to use their voice and grow.
"An award like the Heart & Soul Community Champion Award, is a reflection of the quality of USF and the Women In Leadership & Philanthropy initiative, says Sandoval. It sets an incredibly high bar for how we can and should operate in the world moving forward."
The Women in Leadership & Philanthropy initiative will present Sandoval and the 2020 Heart and Soul Community Champion Award recipient, Nicole Lacob, their awards during a celebration event in the Fall of 2021. Learn more »