Alumni
Heart of a Warrior
USF Designates Inaugural Award to Nicole Lacob, Board President of the Warriors Community Foundation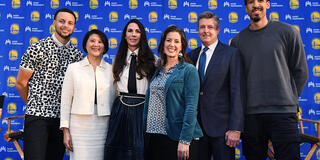 The University of San Francisco's Women in Leadership & Philanthropy initiative announced what will become an annual award: the Heart & Soul Community Champion Award celebrated during Women's History Month 2020.
In her seventh year of leadership, Nicole Lacob, Board President of the Warriors Community Foundation has been selected as the inaugural recipient.
The award recognizes individuals and families who live and give back in the Bay Area, exemplify the mission of USF, and demonstrate care for our community.
The foundation, under Lacob's leadership, works to support youth development and education in low-income communities around the Bay Area and has given more than $22.5 million in impact to strengthen nonprofits that further the efforts in this mission.
In 2018, she was inducted into the Alameda County Women's Hall of Fame for her philanthropic work. Since then, Lacob's focus has been on growing the foundation's reach and impact even further through partnerships with organizations like Kaiser Permanente, Salesforce, and others. Foundational support is allocated to both Oakland and San Francisco in areas where aid is most crucial.
"The team moving cities has not impacted or changed our foundation work at all," Lacob said. "We're designed to support those neighborhoods. Everyone is deserving of course, but we try to stay in the communities where the need is high."
The Impact of Education
Not only has she given back to the community through the foundation's philanthropic efforts, but previously, Lacob worked as a high school teacher.
Strengthening support for education has consistently been at the forefront of her personal and professional values. As a child, Lacob's parents divorced and for circumstantial reasons, she experienced first hand many of the same hardships of those she actively supports today.
Until graduating high school, Lacob worked various jobs to help support herself and her mother financially. Upon graduation, she went to work for the same law firm where her mother worked nights. Lacob soon realized she wanted more meaning from her life.
"I knew I needed to get out of those office lights and be something different," she said. "I had always wanted to be a teacher, but never thought college was possible for me financially or academically."
Lacob decided to take some classes at community college and ended up getting a full-tuition scholarship at George Washington University.
"To this day I still do not know who gave me that scholarship. I was blessed to have it," she smiled. "I've always said the angels have been there as rough as the road had been earlier in my life."
After getting her degree, Lacob went on to pursue master's classes in education, moved to Arizona, and became a high school teacher. Her first job was teaching violent offenders that came from Black Canyon Juvenile Institution to help transition them back into the Phoenix Union High School District. After several years, she later transitioned to teaching in traditional public schools.
"I was tough and fair with my students. That is really a balance that is important to bring when you're teaching. I made sure the students were accountable and made sure they always knew where they stood in the class. They always knew what their grade was and how they were performing," Lacob said. "One of the most rewarding things though was, hearing that a lot of kids felt comfortable enough with me to come in and share their stories. I felt like I could be a mentor to them and that meant a lot to me."
Becoming Her Own Leader
Transitioning to her role as Board President of the Warriors Community Foundation from previous roles in the hospitality and wine industry and in public education as a high school teacher wasn't difficult at all for Lacob.
"I feel grateful to be in this role because not only am I speaking to that younger me, I'm addressing all those things for others that were missing in my own life," she said. " I feel like my life completely prepared me for this. Everything that happened to me brought me to this moment and I feel nothing but gratitude that my experience has brought me to a position in which I can really be of value to what I'm doing in the community. That is so meaningful."
Lacob credits multiple mentors in her life with helping to shape her into the leader she has become, including her grandmother, many teachers and professors, and her parents.

"The best thing I ever did was forgive my parents and also be grateful to them because they did the best that they could do with the knowledge that they had at the time," she said. "I think acknowledging that was a big piece of my life that allowed me to go on to succeed as a person and a leader. If you hold onto your past and everything that has gone wrong in your life, you can't focus or give yourself the power to move forward and succeed. Life is now and what you're creating in the future. You can't live in the past."
Lacob's passion and leadership both continue to focus on providing the resources for others she needed when she was younger, and building educational opportunities that are accessible to all students regardless of their background, neighborhood, or family's income level. She hopes the work of the foundation will provide successful tracks from cradle to career so students achieve, succeed, and return to pay it forward in their own communities.
The Women in Leadership & Philanthropy initiative looks forward to presenting Lacob with the award in person at a future USF event in the Spring of 2021.