Campus Life
USF Ushers in Holiday Season With Tree Lighting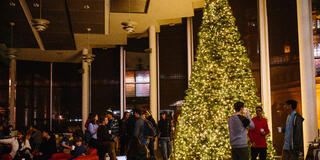 USF decked the Gleeson Library atrium with boughs of holiday spirit for the university's annual Christmas tree lighting ceremony Nov. 30.
The tree lighting, attended by dozens of students, faculty, and staff, was held in the high-ceilinged Monihan Atrium rather than the usual outdoor spot near University Center, for fear of expected El Niño storms dampening the festivities.
Fr. Donal Godfrey opened the short ceremony with a blessing, praying for world peace and justice and also acknowledging other faiths and religious traditions.
"Bless this Christmas tree that it be for us a symbol of hope in this holiday," he said.
Caroling and hot chocolate
The lighting was followed by caroling by a capella group ASUSF Voices, who sang holiday favorites like "Deck the Halls" and "Jingle Bells."
"I think singing Christmas carols is the best way to spread the Christmas spirit across campus," said Anna Tan '16, who has been with ASUSF Voices since her freshman year.
"We always had a Christmas tree growing up, but the last couple of years I was home we didn't put it up," she said. "So I've always loved the Christmas tree at USF because it's so big and bright."
After the ceremony, the audience mingled and enjoyed hot cocoa, apple cider, and pastries.
"I thought it would be nice to see the tree lighting up," said Alexia Arietta '19. "And the hot chocolate is really, really good."