San Francisco Advantage
USF Selected as 'College of Distinction'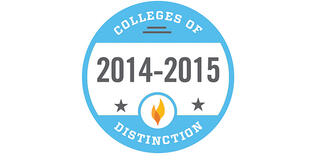 USF has earned a place on the Colleges of Distinction list of top universities for the third consecutive year, thanks to the university's exceptional faculty, engaged teaching, successful graduates, and vibrant campus life.
Beyond test scores
The Colleges of Distinction list, a college comparison tool for high school juniors and seniors, goes beyond simply comparing GPA and standardized test results, employing a holistic assessment of universities and colleges and taking into account the educational benefits of hands-on learning, as well as study abroad, internship, and undergraduate research opportunities.
USF was singled out for:
The large number of teaching faculty who hold doctoral degrees or the equivalent terminal degree in their specialty — 91 percent
An engaged learning style that connects students with the San Francisco Bay Area community as interns at tech startups, volunteers at nonprofits, and in immersion classes that allow them to meet and learn from migrant farm workers, the homeless, urban farmers, and others
Alumni who excel in their professions, including a former president of Peru, a Pulitzer Prize-winning photographer, the former president and CEO of Intel, a California Supreme Court Justice, and many more
Campus life filled with student events, prominent speaker series, NCAA Div. I sports, concerts with headlining artists, as well as nearby San Francisco museums and nightlife
"At USF, success is about more than just getting a job," said Kevin Schritter, executive editor of Colleges of Distinction. "The alumni are also good citizens and responsible family members. They take away from their college years a sense of something bigger than themselves — something that makes them 'successful' in every sense of the word."
Standing out from the crowd
Colleges of Distinction uses a "Four Distinctions" criteria based on the categories: great teaching, engaged students, successful outcomes, and vibrant communities. High school guidance counselors, college administrators, and Colleges of Distinction staff nominate the colleges honored in the publication each year. The final results are based on testimony from college admissions experts, university staff interviews, visits to the nominated schools, and statistical analysis.
Know someone with a powerful USF story? Let us know! usfnews@usfca.edu | Twitter @usfca