Equipped to Lead and Succeed
USF to Recognize Outstanding Alumni
Awards gala will highlight leaders in service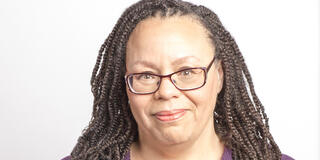 Antoinette Malveaux '81 has been named the 2016 USF alumna of the year for her service to the university and her work to improve the foster care system and helping children.
Malveaux is one of six honorees who will be recognized for contributions to the community and the university at the Alumni Awards Gala Oct. 1, part of USF's Alumni Weekend.
As managing director of Casey Family Programs, Malveaux helps child welfare systems across the country develop better practices and policies, with the overarching goal of reducing the need for foster care 50 percent by 2020. The Seattle-based nonprofit provides services, including foster care, to more than 1,000 children and families. Since 2009, it has invested more than $397 million in bolstering child welfare systems and other organizations that work with disadvantaged youth.
Runs in the family
The USF economics alumna credits the university with preparing her for a lifetime of service. She served on USF's Board of Trustees for nine years as well as on the board of the Leo T. McCarthy Center for Public Service and the Common Good for two years. The McCarthy Center is active in helping address poverty and inequality in San Francisco's Western Addition neighborhood, where Malveaux grew up.
"I was raised in a family that believes in servant leadership and building supportive communities," says Malveaux, who is a university donor and whose father is also a USF graduate. "The University of San Francisco, with its focus on social justice and educating hearts and minds, helped to reinforce, enhance, and empower what was already seeded. My professors pushed me to reflect and further understand leading with my head and heart."
Malveaux, who went on to earn an MBA from the Wharton School of the University of Pennsylvania, spent 11 years as president of the National Black MBA Association and helped grow the organization to 39 chapters nationwide.
Outstanding alumni
In addition to saluting Malveaux as alumna of the year, USF will recognize five other honorees for their achievements:
Jack Boland '78, president of Baker Street Advertising, will receive the Alessandri Alumni Service Award for his service to the university. Boland advises USF on communications and branding, and has served on several USF hiring committees.
Naomi Kelly JD '01, city administrator of the city of San Francisco, will receive the professional achievement award for bringing distinction to the university for exemplary achievements in her profession. Kelly oversees more than 25 city departments, divisions, and programs, and is responsible for a budget of more than $500 million.
The Alumnae of the Sacred Heart Lone Mountain Board of Directors will receive the Edward J. Griffin Award for their work raising $2 million in scholarships for students who will become teachers.
Margaret Boehly '05, a Foreign Service contracting officer currently assigned to Washington D.C., will receive the Fr. Stephen A. Privett Living the Mission Award. Boehly previously served in Afghanistan and Saudi Arabia. She has worked as a refugee resettlement coordinator in Salt Lake City and was a Peace Corp volunteer in Namibia.
Fran Streets will receive the Cable Car Award, which recognizes those who promote the university's mission and goals but aren't USF alumni. Streets was president of the International Women's Forum, is a longtime member of the San Francisco Library Commission, and was the first African American to serve on the San Francisco Chamber of Commerce.
Know someone with a powerful USF story? Let us know! usfnews@usfca.edu / Twitter @usfca