Campus Life
USF Names University Veteran as Interim Provost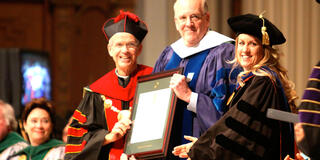 Former USF Provost and Vice President for Academic Affairs James Wiser is returning to the university in his prior role, while a nationwide search continues for a permanent replacement to fill the university's top academic post.
Wiser, a USF emeritus professor of politics, will serve as interim USF provost starting in June. He previously served as USF's provost from 1998 to 2010. Under his leadership the university significantly increased the number of full-time faculty, developed a new core curriculum, and expanded support for faculty research.
Before coming to USF, Wiser was senior vice president and dean of faculties at Loyola University Chicago from 1989-97. In addition to his two decades of provost-level experience, he was a consultant on higher education for the Detroit and Chicago provinces of the Society of Jesus as well as a political science professor at Loyola.
Finalists visit campus this fall
As interim provost, Wiser will lead faculty recruitment and retention; manage curriculum development; direct academic programs; and oversee admissions, student academic services, and budget planning.
The provost search committee, led by Vice Provost for Institutional Budget, Planning, and Effectiveness Jeff Hamrick, plans to interview semi-finalists and invite finalists to campus in early fall.
Wiser takes over from Jennifer Turpin, who was USF's first female provost and served from 2010-15. During her tenure she helped launch 25 new academic programs and saw freshman applications nearly double. She'll take a year sabbatical and return to USF as a professor of sociology.
Know someone with a powerful USF story? Let us know! usfnews@usfca.edu | Twitter @usfca