Equipped to Lead and Succeed
USF Makes Princeton Review's Top Colleges List
The Princeton Review selected University of San Francisco as one of the leading universities in America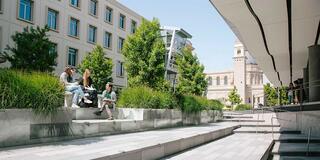 USF's unique blend of location, academics, and dedication to service and social justice has once again landed it among the 384 best colleges in the U.S., according to the college admission services company The Princeton Review. Its 2019 rankings lists are based on the results of a survey of 138,000 students.
"We picked the 384 'best' colleges for our book primarily for their outstanding academics," said Robert Franek, The Princeton Review's Editor-in-Chief. "However, we know applicants need far more than an academic rating or ranking to find the college that will be best for them. We created our ranking lists to help narrow that search. In the end, it's all about the fit."
The USF students surveyed echoed that sentiment, explaining why the school was the right fit for them and emphasizing small class sizes and expert professors as two of those reasons. The "extremely talented, well-educated, hard-working, and passionate professors" are "well-qualified and deeply care for my education," one student said. The support students receive at USF was another appealing feature, with many noting the importance of  "...academic success advisors who help make sure we are on track with graduation, help with major changes, and (assist with) choosing class schedules."
San Francisco Advantage
One of the biggest draws of USF is the city of San Francisco itself. The Princeton Review ranked USF in the top ten "College City Gets High Marks" list.
Students felt that San Francisco served as a classroom all its own, noting that "the campus is in a beautiful location that's the ultimate city to be in as a young person," and appreciating the ability to "get to know each other academically, socially, and morally while allowing ourselves to get distracted by the city of San Francisco."