A Tribute to Professor Nicholas Imparato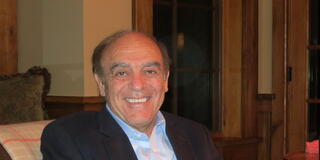 Nicholas Imparato, Professor of Marketing and Management in the School of Management retired recently after nearly 52 years at USF. During his tenure, he served as a Research Fellow at Stanford's Hoover Institution (1996-2012) and as a senior executive and board member of corporations here and Europe.
Imparato was attracted to USF because "it was palpable that the entire university community shared a common goal: an intention to be relevant."  In his on-campus interview in 1970 he met energetic faculty and students engaging in Civil Rights campaigns, developing plans for the first Earth Day and pursuing a host of science projects that eventually earned international distinction.
"It was an exciting environment," says Imparato, "and it was the best of both worlds – a smaller campus conducive to friendships, flexibility and interdisciplinary projects but also one that aspired to have an impact on the world stage."
  
While chair of the Marketing Department (2011-2020), Imparato played a significant role in the department's growth and program innovations, including the launch of its Masters in Science in Marketing Intelligence. He notes that US News and World Report has ranked the department and its undergraduate program for marketing majors among the top 40 marketing departments across 800 accredited schools of business annually since 2015.
 
"As chair of USF's Marketing Department, Professor Imparato was impactful and genuinely cared about students," says USF School of Management Dean, Dr. Charles Moses. "Insightful and highly collaborative, he raised the level of the Marketing program, championing industry partnerships, program development, student internships and job placements, all aimed at increasing student success in the workplace."
Imparato's corporate and executive positions were with both publicly traded (NYSE, NASDAQ) and privately held companies and crisscrossed banking, technology, and consumer segments. International advisory and speaker activities included work with Visa, Cadence, and IBM. He also worked with nonprofits in Africa.
Imparato's numerous teaching awards include the University Distinguished Teaching Award, the university's most prestigious teaching honor, as well as the USF MBA Student Association Gold Circle Teaching Award and the USF School of Management Outstanding Teacher Award. 
According to Linda Crowe, EMBA '2021 "Professor Imparato had an ability to integrate across specialties, and in ways that respected the personalities and career needs of each student – from beginner to expert – so that everyone in the course came away with new knowledge, models, and tools."
In addition to using data and theory, Imparato's great storytelling was an attractive part of the course, adds Christina Oldini, BSN '86, EMBA '17.
Thank you and we hope you are enjoying your retirement, Professor Imparato!