Engaged Learning
Tracing the Path to Change
Reflections on black heritage in America
In January, during intersession, 22 students in USF's Black Living-Learning Community, which is a component of the university's new Black Achievement Success and Engagement program, took an immersion trip across the American South to visit cities of particular significance in black history. Angela Sivers was among them. Here are three of her recollections.
Scene I: Flight to Freedom
A cold breeze lifts the curls from my shoulders. I shiver. Light creeps down the staircase behind me. I look up. A wooden beam, chipping white paint, close to my head. Four brick walls. The smell of mildew. This cellar is not what I pictured when I heard we were headed to the Slave Haven Underground Railroad Museum in Memphis, Tennessee. When I think haven, I think warmth. I look to my left and find a patch of darkness in the wall — the source of the cold air. It's a tunnel, just two feet in diameter. Escaped slaves crawled through this tunnel on their flight to freedom. So how come I feel so trapped? I realize that just as my idea of haven differs from my ancestors', so does my definition of freedom.
Scene II: Fighting the Good Fight
Clear blue sky. My face absorbs the sun's warmth. Its rays force me to squint up at our guide, Major Womack. He stands on a concrete ledge, his back to a wide stream. He shares memories of swimming and fishing here as a child. His tone shifts as he explains that, today, the stream's water is too toxic for swimming. The fish are long gone. Major Womack is a descendant of the 110 West Africans smuggled into Mobile, Alabama onboard the Clotilda, the last slave ship to reach the shores of the United States, 50 years after the Atlantic slave trade had been banned by Congress. Major Womack's ancestors retained many of their African traditions and, once freed, founded the small independent settlement of Africatown. A haven of their own. Today, Major Womack, an environmental justice activist, and other community members fight against forces polluting their land and threatening their livelihood. The fight for freedom is far from over. This realization becomes as clear as the sky over Africatown.
Scene III: Freedom? Not Yet.
"I'm not worried, 'bout a thing," the child sings. She moves the entire congregation with her voice. I scan the three wooden pews we occupy at 16th Street Baptist Church in Birmingham, Alabama. Smiles plastered on my peers' faces, we clap, sway, and sing together. After such a heavy week visiting places such as the Whitney Plantation Museum outside New Orleans and the National Memorial for Peace and Justice in Montgomery, Alabama, it feels good to experience joy. This trip helped me recognize that, while I am my ancestors' wildest dream, their flight and fight for freedom doesn't end with me. The bombing that shook this church 55 years ago, the violence and discrimination black communities face today, is not freedom. Sitting in this sacred space with my peers, I am hopeful. We will continue to fight, like our ancestors and the activists of Africatown, until we live in a world where we are all free at last.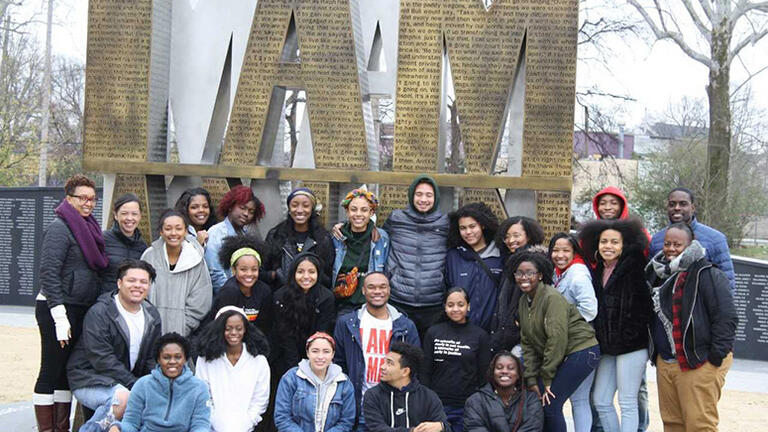 Base students at an immersion program