Campus Life
How to Install a Two-Ton Sculpture
New "Tides" sculpture placed near top of Lone Mountain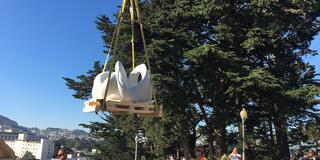 In honor of the 50th anniversary of the Class of 1968, a marble sculpture was installed near the top of Lone Mountain on Oct. 7, providing inspiration for students, faculty, staff, alumni, and visitors to USF.
"This is one of the happiest days of my life," said the sculptor Yoko Kubrick, who grew up on Octavia Street in Japantown, just blocks from USF. "I'm absolutely so honored to do this project."
Kubrick was commissioned by alumnae of the Class of 1968, of the San Francisco College For Women, to create the sculpture, which is called "Tides." The college became Lone Mountain College in 1968, and Lone Mountain was acquired by the University of San Francisco in 1978.
The alumnae raised $100,000 for the sculpture, said Polly McMullen '68. Their gift includes the new Sacred Heart Garden surrounding the sculpture and the mosaic of the Sacred Heart by Tom Lucas, S.J., which was installed on the front of Lone Mountain Main. The gift honors the Religious of the Sacred Heart who founded the college, McMullen said.
The "Tides" sculpture was crafted in Tuscany, Italy of carrara marble. The base is made of gray bardiglio imperiale marble. Using a 75-ton crane and crushed ice to cushion the marble sculpture's landing on its marble base, three workers installed the sculpture in the Sacred Heart Garden. Curved granite benches complete the garden.
Here's what you need to know about USF's newest piece of art:
Weight of "Tides": 4,794 pounds
Dimensions: 48 inches wide by 55 inches high by 53 inches deep
Weight of the base: 3,528 pounds
How long it took to create: three months
Amount of crushed ice needed for cushioning: 20 gallons
Time to install: 4 hours and 44 minutes
Meaning: "Tides" is meant to evoke time and change
Easter egg: From the stairs heading down toward the sculpture, look for a heart that is visible in the north-facing side of the sculpture
Kubrick remembers playing in the Ruth Asawa sculpture fountains in Japantown and says she was inspired by Asawa.
"I think that to date this is the best sculpture I've done," Kubrick said.
Students studied the sculpture as it was lifted into the air and installed in the garden.
"I like the form — I see that it's some type of continuous form," said Inez Vara '20. "I like the color. It gives a refreshing presence. And, I like the seating."
Sue Yang '22 agreed. "It's really nice to have a little rest area going up all these stairs to Lone Mountain."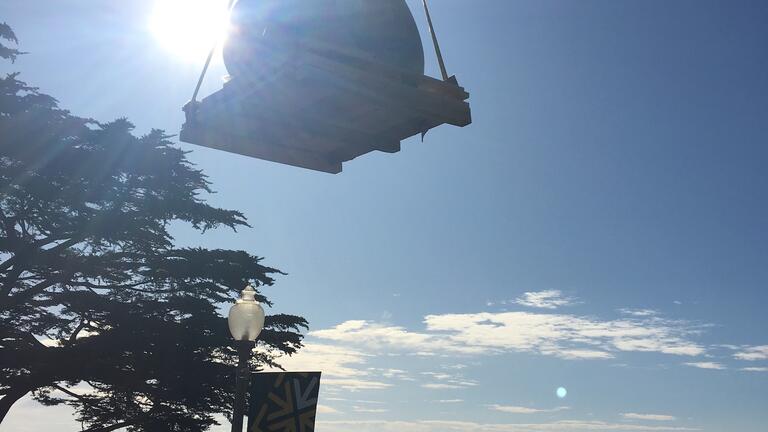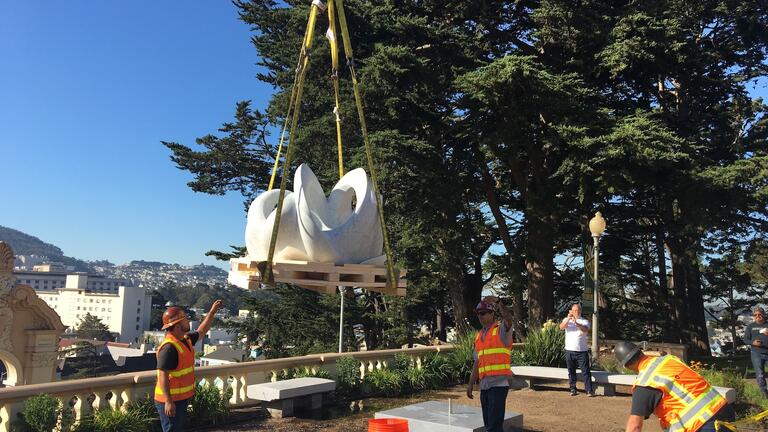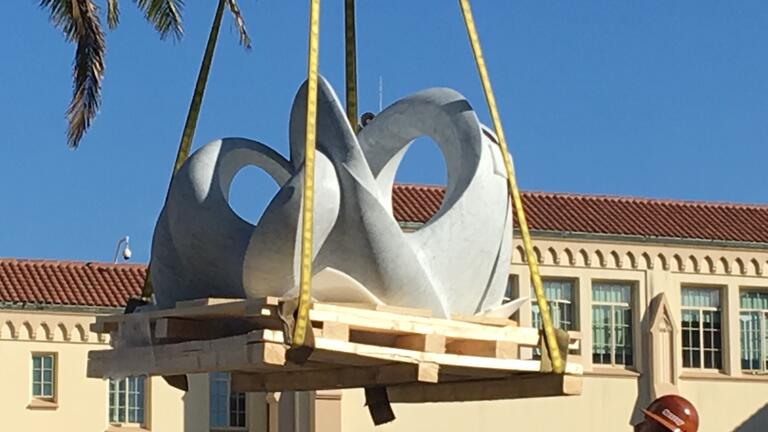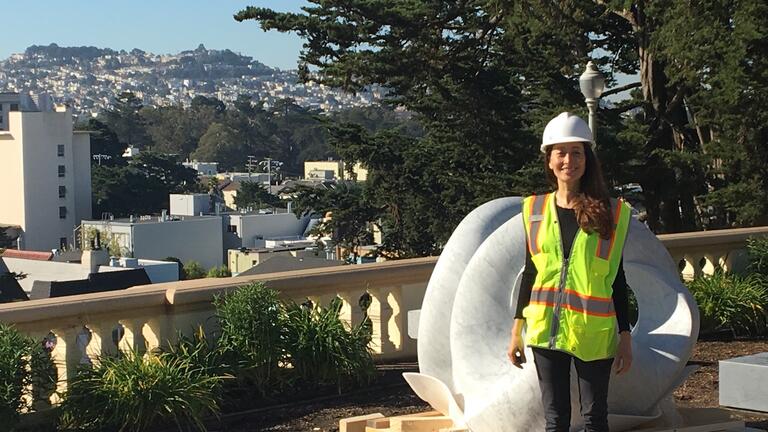 "Tides" weighs more than two tons.
"Tides" was created by Yoko Kubrick, who grew up in Japantown.
Alumnae raised $100,000 for the sculpture, a gift to USF.
Yoko Kubrick, sculptor of "Tides"