Equipped to Lead and Succeed
Theory to Practice
Matthew Wohl MA '18 shares how his program's focus on curriculum uniquely prepared him for the field of teaching.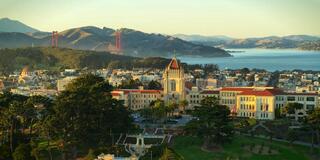 Matthew Wohl MA '18, a graduate of the Master of Arts in Teaching program, reflects on his time at USF and how his decision to pursue a master's degree focused on curriculum prepared him for the high school classroom.
1) How did the Master of Arts in Teaching (MAT) program prepare you for the work you are doing in the classroom?

The MAT option was an amazing capstone to my education and something that I found extraordinarily beneficial to me professionally and personally. While the other classes in the program certainly helped cultivate my educational philosophy, perspective, pedagogy, and build useful and meaningful curricula, I found the final two classes in my MAT option as a vital stage in my education to become a teacher. I was able to take what I learned and experienced during my student teaching, and put it into large and thorough projects that were authentically mine. I was encouraged to explore topics that were of genuine interest to me, but also ones that would have a direct impact on my teaching. 
In the end, there's nothing that can really prepare you for the classroom other than experience itself, but the MAT option allowed me to go that extra step into my thinking which gave me the confidence and sense of purpose that many first year teachers take a while to find. The freedom that my professors afforded me, along with their encouragement and guidance to ensure that my work was of high-quality, became an exemplar of how I should teach my own students. In short, I do my best to minimize perfunctory tasks and to maximize work that is genuinely engaging and relevant. 
I was truly privileged to have had the structure and discipline from USF to get the tedious work done to ensure my credential was complete, and the freedom and encouragement of so many professors who really allowed me to take ownership of my education to explore and create.

2) The culminating assignment in the MAT program is a unit plan. Can you tell us about the plan you created?

My unit plan is based upon Slaughterhouse-Five by Kurt Vonnegut. It is about the power and detriments of humor. As an English teacher in high school, I feel that it is important for students to be able to read into deeper connotations of the words and media they consume. Especially working with students who have lived their entire lives in the 21st century, I hoped to equip students with an ability to understand the nuances of humorous language and to find the deeper - often political - themes embedded into seemingly trivial comedy. 
The central text does a great job of documenting the horrors of war with a uniquely irreverent tone. As such, my unit attempts to address irony, sarcasm, the dangers and benefits of censorship, and the power structures that inform humor and comedy writing. My unit explores different media and allows students to think, write, and speak about how these kinds of texts affect them, their identity, and society at large. Using a backwards mapped framework, I was able to systematically plan a unit with a balance of new content, review, and language support to ensure that all students could participate and thrive. And when the time comes to teach Slaughterhouse-Five I already have a full unit in my back pocket!  
Creating this unit was an incredibly valuable experience to me, especially now that I know that most teachers simply do not have the luxury of fully backwards mapping a full unit with the guidance of a professor and their peers like I did! I'm proud of my work, and grateful to the faculty at USF for providing the opportunity to support me.

3) What was a highlight of your time in the MAT program?

It's a bit difficult to say what the highlight was in the MAT program since so many of my classes had an impact on me. While I certainly benefited from my courses in educational philosophy, supporting exceptional students and English Language Learners, I am most grateful for my student teaching placement. 
I was placed at Aragon High School in San Mateo and set up with a fantastic English department with exceptional and diverse teachers that embraced me and wanted me to collaborate with them. Furthermore, my student teaching coursework simultaneously kept me on pace to get the Teaching Performance Assessment (TPA) completed, but also encouraged me to reflect on my experiences. This framework allowed me to be successful as a student teacher and to grow into the teacher I am today. 
With all things in life, there's an element of "luck of the draw." I could have been placed at a school that wasn't great or had fellow students that were not eager to share or help me in my journey. However, USF worked diligently to ensure that I was placed in a school that worked for me and that my fellow MAT students were held to high standards. In the end, I was thrown into the world of teaching with just the right amount of support and freedom. For that, I am thankful for USF, my master teachers, and my peers in the MAT program.

Interested in learning more about USF's Master of Arts in Teaching program? Contact an advisor today.