Giving
Endowments Plant Seeds for the Future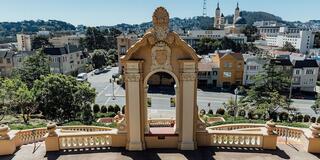 The USF Endowment is a portfolio of pooled gifts that is invested to secure the mission of the university for years to come. It grows through philanthropic donations and through the return on investments. Like the seed of a lemon tree, the seed of an endowment grows tall and bears fruit to support students for years to come.
Most universities and many nonprofits have endowments. Institutions do not spend the main pool of funds. Instead, organizations spend the interest generated from investments;
Invested for Long-Term Growth
Over time, the growth of our endowment provides a continuous, strong, and permanent source of financial support for the university. It allows USF to make commitments to the future, knowing resources and income will be reliable and available.
The endowment is an important part of our overall financial well-being. Endowment funds provide an ongoing source of stability and growth and are critical to supporting the university and our students through periods of economic volatility.
"USF's kind and generous donors have established perpetual funding for student access, engagement, and success at USF," said President Paul J. Fitzgerald S.J.
Bearing the Fruit of Scholarships
USF has nearly 600 endowed funds, with legal parameters on how their income is spent to support USF. For example, a fund may be restricted to provide scholarships to students who attend the School of Management. The majority of the funds in the USF Endowment provide academic and co-curricular scholarships to students across USF, in undergraduate and graduate programs.
Anyone Can Plant Seeds
Gifts of any amount can be added to existing endowed funds. To establish a new endowed fund, the university requires a commitment of $50,000 to be fulfilled within a five-year pledge period.
As of summer 2022, the USF Endowment's average annual return for the past ten years was 8.9 percent, exceeding the peer benchmark of 6.8 percent and ranking the endowment in the top 4 percent of its peer group.
To learn more about supporting an endowed fund at USF, please contact the Office of Development at (415) 422-5623.