Equipped to Lead and Succeed
USF Grad Brings Teranga to the Tenderloin
She joins other female food entrepreneurs in new neighborhood marketplace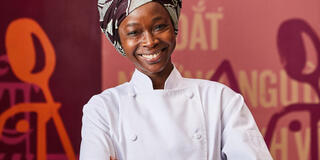 Nafy Flatley '06 wants to balance her work life with her family life and spread joy while she's at it. With her business, Teranga, she does just that.
Accidental Entrepreneur
Flatley wanted to work in the world of business, but she never expected to start her own.
Right after graduating, she worked in Silicon Valley. "I started as a marketing assistant, then a trade show manager, and then a marketing director" for several startups, she said.
When Flatley started a family, "my work at the time wouldn't give me enough maternity leave to bond with my son," she said. "It wasn't much better for a new mom at any other jobs I was exploring."
So in 2015 she shifted gears and launched her own business, which serves foods and juices from her native Senegal.
In Senegal, teranga means hospitality and friendship. "Teranga is not only a word — it's a way of life and an art that Senegalese people live by," Flatley said. "I want to share that sense of camaraderie that nourished me." 
She opened Teranga with the help of La Cocina, a local nonprofit incubator that helps food entrepreneurs, most of them women of color and immigrant women, to develop and launch businesses. At first, she sold packaged goods and dry ingredients to vendors like Good Eggs, and then she expanded into prepared meals for pickup and delivery.
Now, in the new La Cocina Municipal Marketplace on Hyde Street in the Tenderloin neighborhood, Flatley joins six other women from La Cocina. They serve Algerian, Salvadoran, Mexican, Nepalese, and California Creole food.
"La Cocina looked at the demographics of the neighborhood and tried to see how they could bring the variety of culture of the Tenderloin into this space so people feel like we are serving them," Flatley said.
Her juices, energy bars, and, sometimes, hot meals are also available at the dining halls on the USF campus.
A Taste of Home
During her time at USF, Flatley studied marketing. She didn't know that she would one day start a cooking career, she said, but she did know she would be equipped to do great things.
"I remember how creative and adventurous we all were," she said. "USF allowed us to dream big and we were encouraged to come up with the next big thing."
The meals at Teranga remind Flatley of home, she said. She immigrated from Senegal in 1998. "The Maafe Bowl, which has peanuts, tomatoes, and veggies, is my favorite," she said. "It was the last meal I ate before emigrating to the United States, so every time I eat it takes me back home and makes me feel happy."
It was challenging to start her business, "especially as an immigrant," she said. "All of the laws and regulations that come with opening a business were very hard to keep up with, but La Cocina helped guide me through. 
Flatley's advice to students who want to start their own business: just go for it. "Don't be afraid of your ideas. Go out and talk about them and show people what you're doing."
Flatley hopes Teranga will continue to expand. "I would love for Teranga to be a household name," she said. "I would love to spread the message of Teranga internationally, and hopefully take the business all the way back to Senegal."