Equipped to Lead and Succeed
Students Transformed by USF Artist's Mission to Serve the Underserved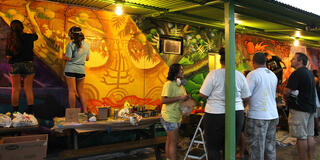 Josue Rojas met acclaimed USF graffiti-style muralist Estria Miyashiro '92 at a pivotal moment, perhaps the pivotal moment of his life. He was surrounded by violence and hanging with the wrong crowd. Today, Rojas is an artist in his own right and just graduated with an MFA degree from Boston University.
"Had I not met Estria when I did, I don't know what I'd be doing now," says Rojas, who followed his mentor's path — paying it forward as a mentor to young people.
How to open an escape hatch
Rojas met Miyashiro at Precita Eyes Mural Arts and Visitors Center in San Francisco, where Miyashiro taught art and community organizing to middle and high school students after graduating from USF. Rojas is one of many that Miyashiro opened an escape hatch for. 
"Time and time again, alongside Estria, I've seen young people abandon the identity of 'thug' or 'gangster' for 'artist' and 'author,'" Rojas says.
Miyashiro came to USF from Hawaii and still remembers the camaraderie he enjoyed as a member of the Hawaiian and Filipino-American clubs. "For me, going to school in San Francisco, with so many different cultures, was one of the best parts. I loved that," Miyashiro said. "USF taught me the value of perseverance and commitment, qualities I try to model even today."
100 percent attendance record
It was during his time here that Miyashiro began to paint commissioned murals rooted in culture diversity and activism for Haight Street businesses. He made a name for himself and a chance meeting led him to volunteer at Mark Twain continuation school, teaching high school students to paint. "Most kids there were at risk of dropping out. But our class was the first to have a 100 percent attendance record," Miyashiro says.
Students who felt marginalized suddenly had a voice and a creative outlet, and some were transformed by the experience. Amazed by what he saw, Miyashiro threw himself into teaching art and building community. After graduating from USF, he worked for Precita Eyes and the EastSide Cultural Center in Oakland — organizations that collaborated with local residents to create community art with a message.
In 2009, Miyashiro was named best graffiti artist by the East Bay Express. In 2010, he gave a TEDx talk on the power of art in public. In 2012, he was honored for his art and community work by U.S. House Minority Leader Nancy Pelosi. And in 2013, he and two co-artists jointly won Miami New Times' Best Mural award for their mural "Universal Aloha Wall."
Believe in ethical business
Today, Miyashiro is the co-founder and creative director of Estria Foundation, which works with Hawaiian students to create murals that "speak truth to power" — whether that's a series of international pieces exploring water issues called Water Writes, a recurring national urban art competition and hip-hop arts festival in Oakland, or his latest Mele Murals project — which invites Hawaiian middle and high school students to partner with local communities and create large outdoor murals that honor Hawaiian culture and lore and educate young people about their ancestry.
"My foundation creates platforms to teach young people to become storytellers, painters, and community leaders," Miyashiro says. "USF made me believe in the ethical business model and helped me on my path of starting socially responsible businesses and nonprofits."
Know someone with a powerful USF story? Let us know! usfnews@usfca.edu | Twitter @usfcanews