Giving
Students at the Heart
COVID-19 Response Fund Fall 2021 Impact Update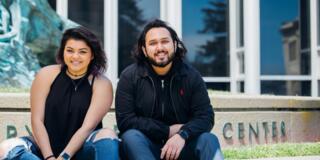 Since its inception in the spring of 2020, the COVID-19 Response Fund has played a pivotal role in supporting USF students.
As of August 1, over $1.5 million has been raised for the COVID-19 Response Fund, including $1M from the USF Board of Trustees and 960 gifts from the USF community. 
Students Remain at the Heart
In the immediate aftermath of the pandemic shutdowns, the COVID-19 Response Fund served as a vital source of financial aid for all students demonstrating the need for basic needs assistance with rent, groceries, and other essentials.
USF Financial Aid has seen a 271% increase in the Free Application for Federal Student Aid (FAFSA) appeals for additional federal aid since the pandemic began and does not expect that need to wane as students return to campus. However, in part due to USF's generous donors, the student emergency fund has received a generous infusion from the COVID-19 Response Fund, to award all students who have sought support since spring 2020.
"The outpouring of support for the COVID-19 Response Fund from our community of alumni, parents, friends, faculty, staff, and so many others continues to be incredibly inspiring," said Chantel Smith, associate vice president, development. "This funding has a real impact on our students and their ability to pursue and fully benefit from a Jesuit education and we are deeply grateful to all members of our community who have made giving to this important fund a priority in their philanthropy."
While the COVID-19 Response Fund continues to support students in an individual capacity, portions of these unrestricted funds were allocated to support students' academic success by providing much-needed resources for the university's preparation to safely reopen for in-person instruction.
"This has hit all members of our community in a very hard way – an unprecedented way in every one of our lives," said Karen Rose, USF Trustee and avid supporter of the COVID-19 Response Fund. "Although USF is going to survive this, we just have to make sure that we are bringing everyone along with us to get through this thriving. We need to be able to thrive in the new world that is ahead of us post the pandemic." 
A Safe Campus Promotes Student Success
The COVID-19 Response Fund allows the university to be malleable as the ever-changing federal, state, and city health directives change, ensuring no time lost in providing a top academic experience. 
The university has created an extensive plan to provide the safest possible environment for students, faculty, and staff, ranging from providing hand sanitizer at each building entrance, directional signs to control foot traffic, and other signage to indicate room capacities. Common spaces, including teaching and lab areas, will also undergo daily cleanings to ensure a sanitized environment.
Other critical investments are new hyflex (hybrid-flexible) classrooms, portable equipment, and faculty training initiatives. While serving as a long-term investment for student learning, hyflex classrooms also support the immediate return to campus. With more hyflex classrooms available, cohorts of in-person and virtual students, or blends of both, can be better accommodated.  
"The [COVID-19 Response Fund] helped the university set up hyflex classrooms that will continue to help us navigate providing an academically rigorous and connected experience for USF students in and out of the classroom," explained Julie Orio, vice president of student life. "Not only will the hyflex classrooms help us through this pandemic, they will help us with a sustainable academic experience if additional challenges arise."
Students will be welcomed back to the Hilltop for their first day of in-person classes in over a year on August 24, 2021. To help the whole community stay safe, the university will follow the procedures and protocols set forth by health officials. As USF continues to monitor and adapt, all individuals are encouraged to visit USF Together for the latest information. 

Support is still needed in many areas as the COVID-19 pandemic continues to affect our students, staff, and faculty's daily lives. As we welcome our USF community back to the Hilltop, consider giving to the COVID-19 Response Fund »