Campus Life
USF Convenes Commencement, in Person
See details of the days, plus a list of speakers
Image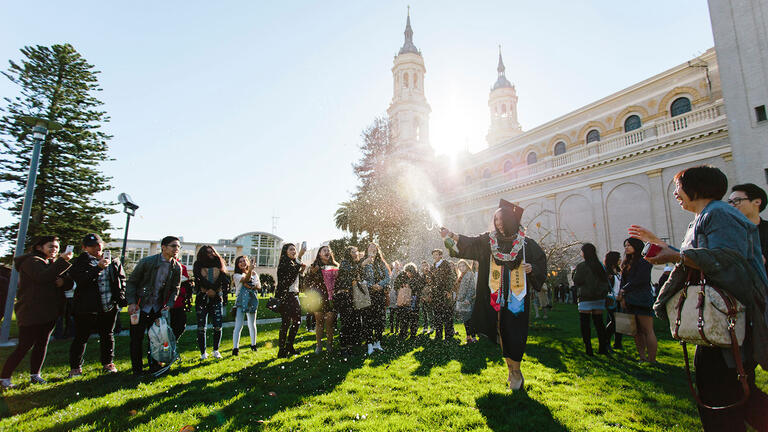 USF will hold spring commencement ceremonies May 19–21 in St. Ignatius Church for 1,133 undergraduate students, 1,051 graduate students, and 191 doctoral students from the university's five schools and colleges.
"I am so proud of these graduates; they have persevered through a pandemic and all of the associated challenges and stresses with resiliency, agency, and determination," said USF President Paul J. Fitzgerald, S.J.
Members of the graduating class hail from 58 countries and from 45 states and U.S. territories. Of these students, 389 are the first in their families to finish college and 304 are the first in their families to finish graduate school.
Nursing, psychology, biology, marketing, and management are the top five undergraduate majors. The graduates will join more than 119,000 USF alumni around the world.
Here is the commencement schedule, along with the commencement speakers who will receive USF honorary degrees. All events are ticketed and will be held in person and streamed live online. More information
School of Education
6 p.m., May 19
Russell M. Jeung, San Francisco State University professor of Asian American studies and co-founder of Stop AAPI Hate
School of Management (undergraduate)
9 a.m., May 20
Irma E. Velasquez '76, author and educator
School of Management (professional bachelor's degree and all graduate degrees)
Noon, May 20
Lip-Bu Tan MBA '83, executive chairman of Cadence Design Systems and chairman of Walden International
School of Law
3 p.m., May 20
The Hon. Lucy Haeran Koh, U.S. circuit judge of the U.S. Court of Appeals, Ninth Circuit
School of Nursing and Health Professions
6 p.m., May 20
Patricia Montes Barron '80, deputy assistant secretary of defense for military, community, and family policy, U.S. Department of Defense
College of Arts and Sciences (undergraduate humanities and science)
9 a.m., May 21
Arlene Blum, executive director, Green Society Policy Institute
College of Arts and Sciences (undergraduate arts and social science)
Noon, May 21
Jennifer Siebel Newsom, first partner of California and founder, The Representation Project
College of Arts and Sciences (graduate degrees)
3 p.m., May 21
William McKibben, author, environmentalist, and Middlebury College educator
ROTC Commissioning
4 p.m., May 21
McLaren Complex, Room 252
Brigadier General Michael S. Peyerl, Nevada Army National Guard