San Francisco Advantage
Sport Management Alum's Nonprofit Raises $700,000 For Poverty Awareness
I PLAY FOR SF, an adult soccer league and subsidiary of the nonprofit organization, Street Soccer USA, has raised $700,000 toward raising awareness for the challenges of poverty across America in its first two years of operation.
Both organizations are committed to working with disadvantaged youth and special needs populations by sponsoring street soccer leagues in urban areas.
"By using sports to engage and empower people and build them up, we are also able to transfer important life skills that are going to make our youth more resilient, perform better in school, and have the tools they need to succeed in life," said Rob Cann, National Director of Street Soccer USA and alumnus of USF's Sport Management graduate program.
Founded in 2007 by Cann and his brother, Lawrence, the idea for Street Soccer USA was inspired by a personal tragedy and the bonds of community that got them through it. When they both were kids, their childhood home burned down. In response, their Richmond, Virginia community stepped up in a big way.
"When you leave that and go out into the world and see that that's not how it is for everyone, you are inspired to recreate it around you," Cann said. "And what better way than through sports?"
Since 2007, Street Soccer USA's presence has expanded from one city at its inception — San Francisco — to 16 different cities today. Along with I PLAY FOR SF, the organization has added the Street Soccer USA Cup, a 4v4 city championship tournament located in New York City and San Francisco, to its growing list of events.
"We are building something that is an answer to the pay-to-play model of youth soccer," he said. "That model excludes a lot of lower-income people and is not going to develop soccer in the neighborhoods that we're working in." The soccer community has so much potential, Cann said, which only added to Street League's eagerness to expand and create something that will be around for decades to come.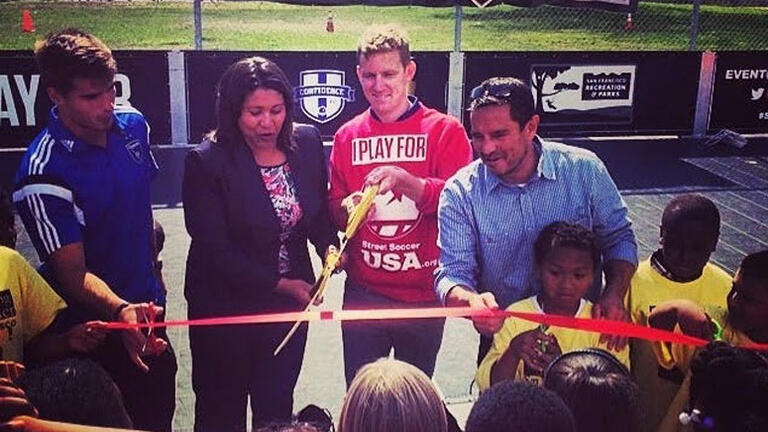 Rob Cann has played a key role in developing I PLAY FOR SF, an adult soccer league that has brought in nearly $700,000 in its first two years.