Campus Life
Sophomore Tips for First-Years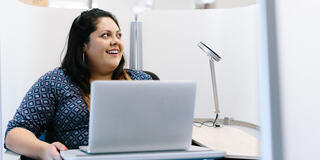 This week, new students arrived on campus to begin lives as Dons. With so much to learn about navigating USF during your first-ever semester, we went to the experts for advice: sophomores! They made it through their Don debuts and learned some life hacks along the way, including where to find friends and how to create the best course schedule.
Quick study
Samantha Ayvar '21
I'll begin with my "secret clue," since it's a great tip for anyone: The best coffee on campus is on the bottom floor of the University Center, across from the bookshop!
Next, living on campus is the best opportunity to meet people. One thing I realized fairly quickly was that everyone on my hall was in the same position as me. No one knew each other, everyone was away from home. So a big bit of advice is to push past any social anxiety and talk to people on your floor, because you will see them daily! RAs are a big support system. Whether you are feeling homesick or have concerns about your roommate, they are willing to listen to whatever you have to say.
Regarding academics, a great tip I learned was to ask sophomores and juniors with the same major as you what classes to take. During my first semester I talked with several of those students in my core classes who were also sociology majors, and learning about their most and least favorite courses really helped me to create a great second-semester schedule. 
Another tip I have is to remember that classrooms are available for you to study in when classes aren't in session, and are accessible with your One Card. This is especially helpful during finals week, when all the small rooms in Gleeson are booked and you have a group project.
Dine around
Kenneth Cacacho '21, Business Administration, Entrepreneurship and Innovation major
First things first: the residence halls. Living in one was a great experience, and there was definitely a lot of compromising with three people in one room! My best advice is to not stay in your room. Walk around the halls and hang out in the lounge and meet people, because they're coming from all over the world and getting to know them will expand your own world. That first week, ask if anyone wants to get food with you at the cafeteria — everybody has to eat! Also, get to know your RAs. They are amazing resources.
Then I'd advise going to the Involvement Fair, which is held at the beginning of each semester and features over 100 clubs and organizations that set up tables and give out information about what they do. Join as many as you're interested in! It's an awesome way to meet new people and try things you were maybe always interested in but never knew how to get involved with.
School-wise, definitely look at course descriptions, professors, times, and locations of classes well before you need to register for your second semester! Make several potential class schedules so you don't feel panicked if one of the classes you wanted is already full. And make sure to take advantage of resources like CASA (the Center for Academic and Student Achievement), Koret Health and Recreation Center (the campus gym), and CAPS (Counseling and Psychological Services)! They're free to students, and their staff are just waiting for you to walk in. 
Finally, a little tip I wish I'd known sooner: Don't forget to hit the cafe on Lone Mountain for lunch once in a while. They often have tastier offerings than the main cafeteria!
Know someone with a powerful USF story? Let us know! usfnews@usfca.edu Twitter @usfcanews