Giving
Craigslist Founder Funds Scholarship at USF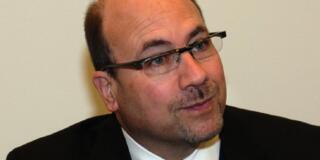 Craig Newmark, who founded the Craigslist website in San Francisco, has donated $50,000 to fund scholarships at the University of San Francisco. The money will be awarded to students in the USF in D.C. program, which immerses them in the unique political and social culture of the nation's capital.
USF in D.C. is sponsored by the university's Leo T. McCarthy Center for Public Service and the Common Good, which is dedicated to inspiring and preparing students for careers of ethical public service.
Newmark has served as a board member at the center for nearly a decade and is an advisor. "The McCarthy Center helps people in San Francisco neighborhoods in the here and now, and it also educates potential neighborhood leaders for long term civic engagement. Everybody wins," said Newmark, who made the gift with his wife, Eileen Whelpley.
Up to 10 students will be awarded a $5,000 Newmark Scholarship in the 2016-17 academic year. Students in the USF in D.C. program are required to complete a full-time internship, where they work at government offices and advocacy groups throughout the nation's capital, including the White House Office of Public Engagement, the U.S. Department of Education, the House Judiciary Committee, and the Sierra Club.
"The Newmark Scholarship will help prepare USF students to be leaders and change makers at the national, state, and city level," said David Donahue, director of the McCarthy Center.
The scholarship is only one example of Newmark's support for non-profit organizations. He created craigconnects.org to nurture and publicize charitable organizations, and at USF, his generosity extends beyond the McCarthy Center. He delivered the commencement address at the School of Business and Professional Studies in 2009 (now the School of Management), and he collaborated with students and faculty in 2011 to provide computers and internet literacy classes for the homeless in San Francisco's Tenderloin district.
For using the internet as a tool to promote democracy and create better government, and for exemplifying USF's motto "Change the World From Here," the University of San Francisco awarded Newmark an honorary doctoral degree in 2009.
Newmark started Craigslist just a few blocks from USF, and more than 20 years later, it remains true to his vision as an information clearinghouse that is free of charge for most users. An international presence, it now receives more than 50 billion page views every month and operates in more than 70 countries.
This gift was made in support of Changing the World from Here: Campaign for the University of San Francisco.