Robin Roberts Inspires at the Silk Speaker Series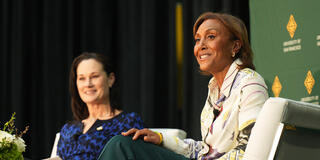 The Sobrato Center buzzed with excitement on March 9 as over 360 attendees awaited to hear from Robin Roberts, co-host of ABC's "Good Morning America," (GMA) and former Women's Basketball Hall of Fame member.
Jennifer Azzi, former Olympic gold medalist for the women's basketball team, and previous University of San Francisco women's basketball coach, facilitated the conversation in her new role as the new chief business development officer for the world champion Las Vegas Aces.
Robin Roberts shared her trials and triumphs in Title IX, battling and surviving cancer, and what she learned when she was at a highlight of her career at GMA.
"You have an idea of how you're going to feel when you reach a certain level. 'The Today Show' had kicked our butt for decades, and everyone at GMA wanted to become the No. 1 morning newscast. I dreamed of how I would feel, the day we would reach No. 1. That very day we learned that we ranked as the top morning newscast, I was told that I would only live one to two more years if I didn't get a bone marrow transplant.
I remember standing back and watching everyone drinking champagne and celebrating; and I realized, this is why we are supposed to enjoy the journey and not the destination. It made me really appreciate it."
Roberts and Azzi connected and discussed the importance of using optimism like a muscle, approaching challenges with an athlete's mindset, and the power of resilience.
Roberts reflected on her journey being the daughter of two first in the family college graduates, her struggles with imposter syndrome as the first Black woman to anchor ESPN's flagship program, "SportsCenter," and the lessons she learned from interviewing the Obamas.
"I had the opportunity to sit down a few times with Michelle Obama, and it's like she said 'we're always becoming' there is no end. The peak of the mountain you just climbed is at the bottom of the next one you're about to climb."
Provost Chinyere Oparah ended the evening noting the significance of how equality is never without its challenges. Roberts showed the USF community that it's ok to be scared of what life may throw at us, but "when fear knocks, let faith answer the door. Don't let fear get in the way of your destiny".
After a short hiatus after the fall Michael Franti concert, the Silk Speaker Series made it's return to the University of San Francisco. The series, funded by Jeff and Naomi Silk, invites thought leaders in business, culture, and global affairs to share their wisdom and ideas with students, alumni, faculty, and friends of the university.
---
Did you miss out on Robin Roberts? Catch the next Silk Speaker, Kal Penn, on April 14, 2023 here >>