Campus Life
Soccer Star Megan Rapinoe Calls on USF Students to Vote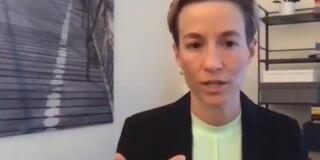 Two-time World Cup champion and co-captain of the U.S. women's national soccer team Megan Rapinoe said she is counting on USF students.
"You're going to be the future. You're going to have to save us," she said at a USF event broadcast on YouTube on Oct. 12. "Your voice is so important. The importance of each individual voice means a lot. 100 million people sat out the election in 2016 in a country with 328 million. That's not good."
With three weeks until the Nov. 3 election, Rapinoe called on students to educate themselves and vote.
"Voting is probably the single most important thing you can do," she said. "Vote for people whose values reflect yours."
Rapinoe, who has been a vocal leader for women's equal pay in professional sports and for social justice, said her values were most influenced by her parents, particularly her mother.
As a popular high school athlete in Redding, California, Rapinoe was often reminded by her mother to speak up for others.
"My mom told us early on that we had a responsibility to use that popularity and talent at sports to be a good person," she recalled.
More than 2,600 students, alumni, faculty, staff, and friends of the university registered for the event, part of the University of San Francisco Silk Speaker Series. The talk with Rapinoe was moderated by Jennifer Azzi, associate vice president of engagement at USF, former USF basketball coach, and member of the 1996 gold-medal winning U.S. women's basketball team.
The event, originally scheduled for March, was moved to YouTube this fall because of COVID-19. The pandemic also meant the Olympics, now scheduled for June 2021, were postponed a year.
"The long-term effects of COVID ... are very concerning to me," Rapinoe said. "I was thrilled the Olympics were postponed, not just cancelled. If they are cancelled now, that's going to be devastating."
Meanwhile, Rapinoe continues to fight injustice. This includes suing the U.S. Soccer Federation for gender discrimination and kneeling during the national anthem to support Colin Kaepernick in his protest for racial justice.
"We have so much discrimination," Rapinoe said. "It's more important than ever to stand up for your fellow Americans."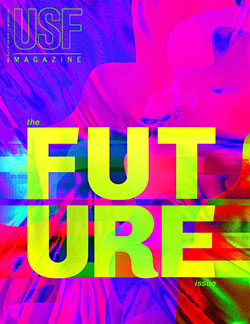 Featured in 
USF Magazine
This USF News story was published in USF Magazine, where you can find feature stories about university life, alumni Class Notes, and information about events at USF.