Giving
A Profile in Courage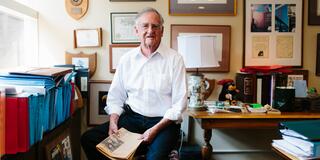 James Kenney was born without arms. He wrote and ate with his right foot and wore a wristwatch on his left ankle. As a top student at Serra High School in San Mateo, he was awarded a scholarship in 1951 to attend the University of San Francisco.
Today, his brother, William Kenney, honors him by giving an annual award — the James F. Kenney Memorial Award — to a USF student who has overcome obstacles "with courage and grace."Four months before he was to graduate from USF with a business degree, Kenney, 22, was killed in a car accident. He was so well known on campus that many of the students and the entire 1955 championship basketball team attended his funeral.
Honoring USF Students
The Kenney family attends the USF Student Leadership Awards ceremony each May to present the award.  Established and endowed in 2001, it has recognized nearly two dozen remarkable USF students over the years, including a cohort of students who were members of the "Lost Boys of Sudan," child refugees of the second Sudanese Civil War in the early 2000s.
William Kenney recalls each of the students who have been honored over the years, including the first USF awardee — a young man who was beaten by a gang and left for dead. Today, he is a USF graduate and works as a physical therapist at a veterans' hospital.
Does getting to know the students help keep his brother James' memory alive? "Not really," says William Kenney. "His memory will never go away for me. I particularly think of him when I see people complaining about what I perceive as minor inconveniences. In all of my years with Jim, I never recall him complaining about his lack of arms, or saying 'Woe is me.'"
Their father created an album, starting with happy photos of the parents bringing James home from the hospital, photos of the two brothers together (William was the younger), and lots of news stories written about James.
The two brothers shared a bedroom. When the differences in ages permitted, they went to the same school. It wasn't always easy for James. He couldn't open heavy doors and getting on buses and trains was difficult, but he did it. Some kids were mean to him, too.
"But he found a home at USF," William said. "He was happy there, and he knew a lot of people."
A Part of History
"Eventually no one will personally know who Jimmy is, but they will know of him through this award," Kenney says. "He was a part of the history of the university."
His brother's scholarship at the university is an illustration of the Jesuit mission at work, Kenney said, particularly the idea of educating men and women for others.
"We appreciate it forever, what the university did for Jimmy," he said. "Because of this gratitude for what the university did, I gladly established this award in his honor. I regret that I was too young to really appreciate how remarkable he was. He was just my brother."
Find out more about supporting scholarships
This gift was made in support of Changing the World from Here: Campaign for the University of San Francisco.