Passion for Justice
Not Voting is Not an Option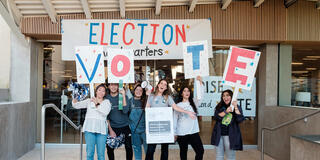 The November 2020 presidential election on November 3 may be the most important and consequential national election since our Civil War.
Affordable health care, COVID-19, and climate change are and will be important issues impacted dramatically by the election. Systemic racism and white political power's unwillingness to address police brutality; a racist criminal justice system and unprecedented racially-based wealth disparity; and the continued consequential national legacy of slavery are the most important issues on the ballot, when we can address them once and for all.
NOT VOTING IS NOT AN OPTION.
Read more information on becoming a registered voter at USF Votes