Passion for Justice
New Lane Center Head Continues Dialogue on Social Justice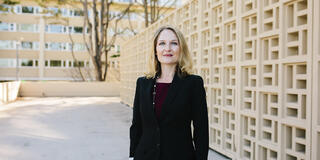 The center supports academic programs, research, and public dialogue about contemporary issues — from immigration to global warming — through the lens of Catholic social thought.
"Catholic social thought includes the Church's teaching around the rights of workers, the rights of immigrants, and economic justice and peace," said Brigham. "It provides a wealth of resources on how to engage in social analysis, theological reflection, and action on the behalf of justice."
A forum for new voices
Brigham, a professor at USF since 2008, joined the Lane Center in 2010 as a research coordinator. During her tenure, she successfully spearheaded the launch of a book series based on Lane Center-sponsored discussions with scholars and prominent Catholic leaders about social questions, including how the Church can reintroduce fighting poverty as a central priority.
"Erin's pivotal role in the development of multiple Lane Center publications has taken the Lane Center to a new level of scholarship and national recognition," said Michael Duffy, the former Lane Center director who was recently appointed director of USF's Institute for Catholic Educational Leadership.
Brigham said one of her goals is to provide a forum for voices that "aren't as represented in the formal leadership of the Church" — such as women. She will also continue to organize roundtable discussions, research projects, and publications on pressing social issues.
Challenging conversations
She sees the center is a place to have all sorts of conversations, including challenging ones, like the one on same-sex marriage.
"The university is an ideal place for that, because this is where we should be able to talk about everything," Brigham said.
The center was established by Joan and Ralph Lane in 2005, shortly before Ralph Lane passed away. Ralph Lane was a devout Catholic and a beloved professor of sociology at USF. Joan Lane continues to be an active member of the center's advisory board.
Know someone with a powerful USF story? Let us know! usfnews@usfca.edu | Twitter @usfca