Equipped to Lead and Succeed
More Accolades for USF
USF nursing, MBA programs shine in U.S. News graduate rankings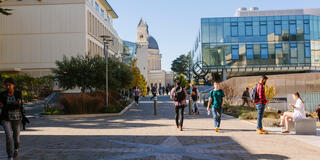 University of San Francisco graduate programs in nursing and business are among the best in the nation, according to new rankings by U.S. News & World Report.
The 2020 U.S. News Best Graduate School Rankings includes five USF programs in the top 25, led by the School of Nursing and Health Profession's Clinical Nurse Leader program at No. 7. Also placing high are several School of Management MBA specialty programs, including the Entrepreneurship MBA at No. 15 and both the Management MBA and Marketing MBA at No. 25.
"We are pleased to see the recognition for our graduate programs by U.S. News & World Report, which are based primarily on an assessment by our peer institutions," said USF Provost Don Heller. "Our students in these programs receive an education grounded in our Jesuit Catholic mission and prepare them to become leaders in their professions."
USF also placed in the top 100 nationally for graduate programs in finance, public health, and public affairs.