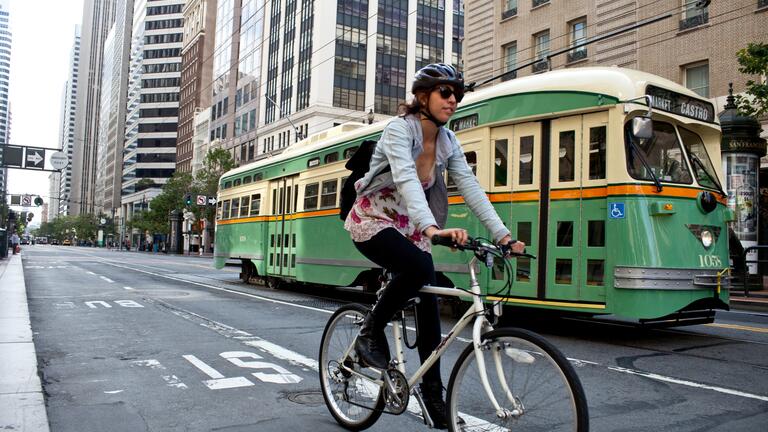 Urban & Public Affairs, MA
Join the Bay Area's dynamic culture of grassroots organizing and advocacy. Develop community-driven public policy for more equitable cities and regions. In rigorous seminars and hands-on experiences, prepare for leadership roles in community organizing, public service, and political advocacy.
The Fall 2024 application is now open. The priority application date is February 15, 2024.
Changing the World Through Urban & Public Affairs
The Urban & Public Affairs Program at USF
Combine classes in urban studies, public policy, politics, and sociology with hands-on experience in community-based research, policy design, and policy analysis. You will be trained to formulate policy and initiatives for more vibrant and just communities.
Internships – You'll gain hands-on experience and build a network of professional contacts.
Career Opportunities – Alumni working in government advocacy, nonprofit administration, policy writing, campaign strategy and management, and grassroots and community organizing can connect you with career seminars, serve on your thesis committee, and maybe even hire you after graduation.
Distinguished Faculty – You'll learn from both academics and professionals in the field.
Study Public Policy-Making in the Unique Urban Setting of the San Francisco Bay Area
Study urban and public policy in San Francisco, a dynamic center for innovative breakthroughs in housing, transportation, environmental justice, organizing and political management. Let the San Francisco Bay Area be your classroom.
Interested in Public Leadership?
Become an effective lawyer and leader in 21st century urban and public policy challenges.

Prepare for public leadership. Transform learning into actions that serve our communities. Bring social innovation to the halls of government as well as to corporate boardrooms.
Urban & Public Affairs, MA
Kresten Froistad-Martin, Program Manager
Masonic, Room MA 216
2130 Fulton St.
San Francisco, CA 94117
Support Urban & Public Affairs