Campus Life
Welcome to the Modern Office
Online classes help students prepare for the remote workplace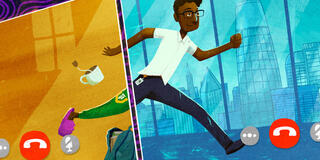 While we all may wish for a coronavirus-free world, one benefit of online learning is that USF students are getting training in how the remote workplace operates.
Jumping on a Zoom meeting with 25 others? Check. Scheduling a conference with a faculty adviser? Check. Learning the etiquette of sharing screens, muting mics, and giving virtual reactions (thumbs up, raising your hand)? Check, check, check.
"I do think it's a great real-world skill," said Alex Hochman, senior director of the Career Services Center. "Zoom can only help students. Nine out of the top 10 companies seniors say they are interested in are tech. Online learning right now prepares them for the world they're going into."
Rodrigue Ntungu LLM '20 agrees.
"With respect to efficiency, performance, and communication while remote learning, Zoom video conferencing itself is a school," he said.
"The COVID-19 outbreak certainly helps me envision the learning system of the future, dematerialized and personalized. But online learning most importantly offers professors and students the momentum to upgrade their class technology skills," said Ntungu.
Design major Maxine Taylor '20 sees the value of learning how to work remotely, but she also has concerns.
"Being able to work from home and get in a groove and see how it works is a blessing and a curse," Taylor said. "It's not necessarily what I would have chosen. I like to be in a group and have group settings at work."
Online learning is a temporary solution, Hochman emphasized.
"Computers can't replace the classroom," he said, "but the students learning online today are building skills for the future workplace."