McCarthy Center Graduates 2020
Celebrating the Next Generation of Activists and Public Service Leaders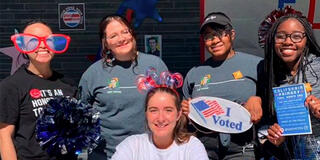 Each May, the Leo T. McCarthy Center traditionally celebrates a long list of accomplishments by students and community partners in a year-end reception and party of graduating seniors, their peers, parents, faculty, staff and community friends in an early evening gathering in the Handlery Room. The names of program participants are applauded, students' photos are shot and honor cords, stolls and the official awards and acknowledgments are passed out.
This year while official commencement ceremonies are postponed, the McCarthy Center is not putting the celebration of stellar students and community partners on hold. "We are singling out our graduating class leaders and our extraordinary community partners — recognizing them online and in our archives for years to come," says Center Director, David Donahue.
The faces of celebrated students are Class of '20 graduates who have participated in USF in D.C., McCarthy Fellows in Sacramento and in San Francisco, Community Empowerment Activists, Public Service and Community-Engagement (PSCE) Minors and Engage San Francisco Literacy Tutors.