Making History Matter
Hannah Nguyen MAT '19 uses personal stories to enliven high school history class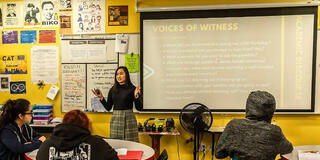 When Hannah Nguyen's mother was 15, she fled Vietnam in a boat crowded with about 40 other refugees. After two days of seasickness, some people grew so desperate from hunger that they wanted to eat the infant that a woman held in her arms. Rather than watch her baby eaten, the woman threw it overboard.
Hannah first heard this story when she herself was a teenager. Later, in her junior year of high school, she studied the Vietnam War in a U.S. history class. The five-unit lesson contained only one small paragraph on the refugees of the war.
"Even though that history belonged to my past, I didn't feel like I belonged to it," Nguyen said.  "The textbook chapter just detailed a few dates and events. It failed to tell the stories my parents had, both of horror and joyful memories growing up in Vietnam during a war."
In May, Nguyen will graduate from the Master of Arts in Teaching: Urban Education and Social Justice program at USF. She's wanted to become a history teacher ever since she took "Facing History and Ourselves" in her sophomore year of high school. The course taught history by telling stories of trauma that are often forgotten or overlooked.
So at USF when Professor Andrea Spero asked her to create a course curriculum as part of a class on teaching history, Nguyen chose to do it on the Vietnam War. Her course uses personal stories to enliven factual history, and she now teaches it at ARISE High School in Oakland as part of her student teaching.
Vietnam War curriculum
Image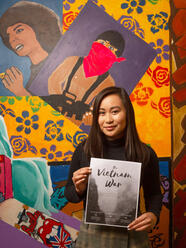 "I was more of a math-science student who thought history to be a boring exercise of memorizing dates," Nguyen said. "So when I designed my curriculum, I thought 'What would make a younger me excited about this?'"
The class begins by showing the students images of the Vietnam War and a primer that answers the question, "Who are the Vietnamese people?"
"The facts related to the war are layered with people's personal stories. You don't just learn about Thich Quang Duc, the monk who burned himself alive in protest against the South Vietnamese government, but you also get to hear his story," said Nguyen.
For the final project, students explore stories outside the textbook by interviewing a person related to the war in some way and designing a creative project honoring that person's story.
Nguyen's curriculum has received praise from educators at two teachers' conferences: the Ethnic Studies Conference and Teachers for Social Justice Conference, both of which took place in San Francisco last year.
"I'm grateful to Professor Spero. Besides supporting me through the entire process of designing my unit, she was impressed with my curriculum and wanted to share it with other teachers. She was the one who connected me to these conferences," Nguyen said.
Social Justice Scholarship
While in high school in San Jose, Nguyen wanted to be a teacher, and had drawn up a list of graduate teaching programs since her school days. USF topped the list because of its emphasis on social justice, she said. Nguyen received a School of Education Social Justice Scholarship, awarded to graduate students who are dedicated to equitable conditions in schools and communities, domestically and internationally.
"My cohort and professors push me to better myself by showing me how to teach like lives depend on it," Nguyen said. "This work is truly life or death. Humanizing and culturally sustaining education has the power to liberate young people. I know because it liberated me."