Giving
Making a Difference on Day of the Dons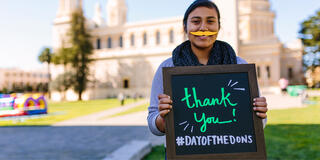 University of San Francisco alumni, students, faculty, staff, parents, families, and supporters came out in droves on Thursday, February 25, for the seventh annual Day of the Dons. This fast-paced, 24-hour day of giving was the most successful event to date. Each Don's donation was combined with gifts by thousands of other Dons to keep USF strong and provide much-needed support to our students. 
This year's goal was to attract 2,021 donors to unlock a $200,000 gift from the Board of Trustees. However, after only a few hours of fundraising, donors rolled in at a record pace. The high level of participation inspired the Board of Trustees so much that they increased their contribution — an additional $300,000 was added to their challenge gift, bringing their total challenge gift up to $500,000.
In total, over 3,080 donors contributed over $1.3 million in gifts to help current and future generations of Dons pursue a Jesuit education. This beat the all-time record of 2,582 donors and the total dollar amount of gifts. Since the inaugural Day of the Dons, participation has more than doubled and contribution amounts have more than tripled.
Not only did this year's Day of the Dons break donation records, but it also broke new ground as the first-ever virtual day of giving. Dons from around the world came together for a Men's Basketball virtual tailgate with Head Coach, Todd Golden and students participated in Instagram bingo and TikTok challenges where they had the chance to win prizes.
"Day of the Dons is a shining example of our USF community coming together to invest in the future of the University from student scholarship support to many academic initiatives," said Lindsey McClenahan, interim vice president of Development. "Every single one of our alumni, friends, and parents that participated today have impacted our students and their ability to Change the World from Here."
The seventh annual Day of the Dons was made possible through the support from generations of Dons coming together to support over 100 programs, scholarships, athletic initiatives, and schools on campus, showing how one Don can make a huge difference.
All gifts made on Day of the Dons support Changing the World From Here: Campaign for the University of San Francisco.