Giving
Loyola Guild Ladies Have Had a Lasting Impact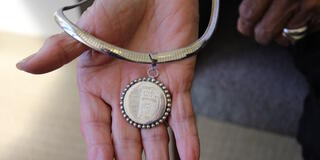 For more than 90 years, the Loyola Guild has organized rummage sales, Christmas house tours, and annual teas to raise nearly $1 million for scholarships for students at the University of San Francisco.
The ladies of the guild have supported 750 students at USF since 1925, showing how a small group giving a modest amount each year can have a broad and lasting impact. They also support students at St. Ignatius College Prep (SI), which was founded as the high school division of USF in 1855.
Credit goes to Connie Mack, the president of the guild, for keeping the fundraising effort going. She has been president since 1983 and involved with the group since 1979.
She proudly wears a silver medal every day, inscribed "Loyola Guild President, USF/SI," with the years she has served: 1983-85, 1991-92, 1999-00, 2002 to present.
What is she proudest of? "That we're continuing on," says Connie, age 81. "Mainly, I believe in scholarships. We can help someone graduate and be proud of themselves."
Also, she loves the camaraderie of women. For the annual tea, she and a crew of women still make everything from scratch, including more than 1,000 tea sandwiches. Her neighbor makes 150 cream puffs, and she makes the homemade brownies.
"We try to keep expenses down," she says simply. The annual tea now raises about $5,000 for scholarships.
Meanwhile, her commitment to USF is strong. Connie's brother, brother-in- law, and husband all graduated from USF, and her brother worked on the Foghorn student newspaper.
Her son, Al Mack '85, also graduated from USF, and he is vice principal at South San Francisco High School. Her son, Kevin, graduated from Loyola Marymount University and works in sales.
Connie joined the Loyola Guild in 1979, when her boys were still in grade school. She joined because of a commitment to the Jesuits, ingrained in her by her mother, who had been trained as a nurse by Jesuits in Guatemala.
The guild was founded in 1925 by the mothers of students at USF and SI. Legend has it that during the Great Depression, they held a bake sale to help the Jesuits pay the schools' electric bill. Later, the guild became one of the most prestigious groups to belong to in the city, but today membership has declined to a few hundred women. It's been tough keeping it going, but Connie has been recruiting the mothers of graduating seniors at SI. If you're interested, contact her through USF.
Connie has stayed with the Loyola Guild, in part because of a promise she made to Katherine Walsh, a former president, two years before she died. "She made me promise not to let the Loyola Guild die," Connie shrugs.
"It takes all of us," she says, "and we want to make sure it's available for others."
Scholarships support USF students every day. Find out more about giving to scholarships.
This gift was made in support of Changing the World from Here: Campaign for the University of San Francisco.