Engaged Learning
Latest Research: Wheelchairs Raise Employment, Reduce Begging in the Developing World
Provide the disabled with wheelchairs and they will switch from begging on the streets to working. They will live better, more productive lives and increase their income by as much as 82 percent. Those are the conclusions Justin Grider MS '14 came to after he spent two months in Ethiopia conducting graduate research that made international economists take notice.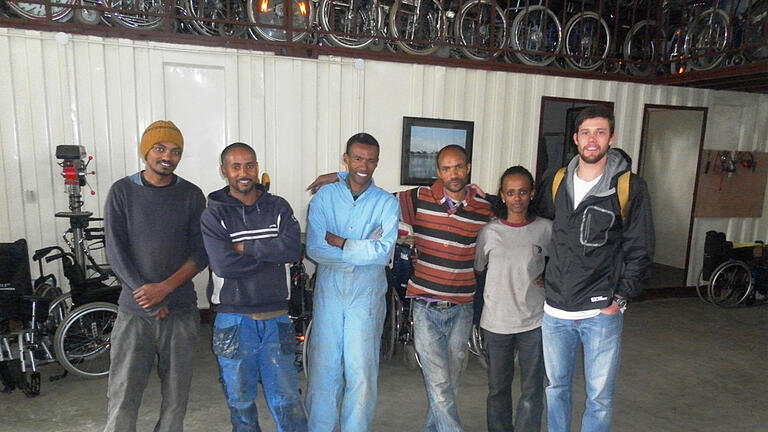 Grider's research won the $1,000 top prize at the New Economic Talent 2014 competition this summer, an international student competition in Prague that's sponsored by the Center for Economic Research and Graduate Education — Economics Institute, one of the top graduate economic programs in the world. He's also been invited to present his findings at the Global Development Network Conference in 2015, which is supported by the World Bank.
Seeing a problem, wanting to solve it
His research demonstrates that when a disabled person is given access to a wheelchair, they spend seven fewer hours a week begging and an additional 10 hours or more on entrepreneurial activities, says Bruce Wydick, USF economics professor and Grider's graduate international development economics program adviser. 
Grider was drawn to the topic after living and working as an English teacher in Ethiopia in 2012. He wanted to know why there so many disabled people on the streets begging, and what could be done to help them. At USF, he tackled the question as part of his graduate studies and turned it into some of the first econometric research on the impact of wheelchairs in the developing world.
"Anyone would be humbled by the struggle that those who are disabled in the developing world go through," Grider says. "If there is a cost-effective intervention that can be a catalyst for those individuals to be better included in society, have a higher probability of employment, and earn more income, it should absolutely be looked into."
Wheelchairs boost employment 15 Percent
About half of the 261 disabled individuals Grider surveyed in Addis Ababa had wheelchairs. That gave them a big advantage in getting around the city and finding employment. In fact, wheelchair users had a 15 percent higher probability of employment and worked 12.25 hours more per week than did their non-wheelchair owning counterparts, says Grider, whose research led to a job evaluating the effectiveness of small business loans in Uganda and Kenya for the international nonprofit Village Enterprise.
His findings point to the potential for large economic gains on a national scale, especially in light of 2004 World Bank research by Robert Metts that concluded Ethiopia could be losing as much as 9 to 13 percent in economic production annually by failing to address its disability needs, Grider says.
Helping local nonprofits advocate
"Justin's research shows the impact a wheelchair has on the life of the disabled," says Chernet Tassisa, program officer at Cheshire Services Ethiopia. She's using Grider's results to build a case for local government wheelchair subsides. 
Cheshire is one of two nonprofits that Grider shared his results with in an effort to inform their work with the disabled. 
Know someone with a powerful USF story? Let us know! usfnews@usfca.edu | Twitter @usfcanews