Giving
$10 million gift to transform the first-generation USF experience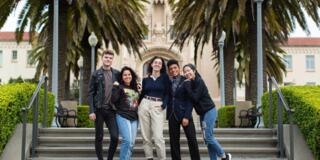 For students who are the first in their families to enroll in college, financial barriers can often obstruct the path to a degree. Intimidation about a perceived lack of affordability, and a consequent feeling of exclusion can hamper access to campuses, and can even trail a matriculated student with worries and anxieties. Happily, a recent, transformational $10 million commitment to scholarships from the Kalmanovitz Charitable Foundation will help open pathways to success for first-generation students at USF with financial assistance that will allow them to make the Hilltop their home.
Shared Interests, Shared Support
Up to 65 students at a time will participate in the Kalmanovitz Scholars Program, an expanded version of USF's already established Kalmanovitz Scholarships. In addition to $10,000–$25,000 per student in scholarship assistance — totaling up to $1 million each year for a decade — Kalmanovitz Scholars will have access to a number of programs to support their academic success. Beginning before their first semester even starts, the Scholars will be able to join the successful Muscat Scholars Program, a bridge program for first-generation college students. Kalmanovitz Scholars will build four-year relationships with Success Coaches from USF's Center for Academic and Student Achievement (CASA) and career coaches from the Priscilla A. Scotlan Career Services Center. Students will also connect with USF 101, a yearlong course that encourages collegiate academic skill-building alongside the core Jesuit values of a USF education.
The full USF experience extends well beyond the classroom. Kalmanovitz Scholars will form a community of mutual support and encouragement, sharing successes and overcoming obstacles along the way. Regular check-ins with faculty advisors and staff mentors will help ensure the group stays in touch and continues to connect via their shared experiences. Each Kalmanovitz Scholar will receive a Jesuit education that forms them into caring and confident graduates, ready to succeed professionally and personally long into the future.
Convening The Community 
For students who could otherwise not afford to attend USF, the Kalmanovitz Scholars Program is nothing short of transformative, with roots stretching deep into the entire Bay Area community. To be eligible for this scholarship, first-generation students must also demonstrate financial need and academic potential based on their high school or community college grade-point average. The program is designed to support and continue the Catholic education "pipeline" that helps many young people climb out of poverty and into successful and engaging lives.
The priority of student applicants to become Kalmanovitz Scholars will first go to eligible graduates of de Marillac academy, then other local Nativity model middle schools, then to their peers from local Catholic high schools. The scholarship is available starting in the 2021-22 academic year, as well as to the dozen USF students currently benefiting from a Kalmanovitz Scholarship.
The $10 million commitment is the latest example of a long history of transformative gifts made by the Kalmanovitz Foundation to USF. The foundation gave a generous gift to support the construction of the John Lo Schiavo, S.J., Center for Science and Innovation; renovations to Campion Hall were made possible by another major gift from the foundation — the building was rechristened Kalmanovitz Hall in 2008. USF appreciates the ongoing generosity and support from the trustees of the foundation, Lou Giruado, Dan Giraudo, Bernie Orsi, and Mark Orsi.
"For decades, the Kalmanovitz Charitable Foundation has focused its giving on supporting hospitals and universities. Today, we're proud not just to continue our support of USF, but to make sure its Jesuit education is accessible to students of more modest backgrounds here in the Bay Area," said Lou Giraudo, Trustee, Kalmanovitz Foundation.
With the expanded and reimagined Kalmanovitz Scholars Program, the foundation is truly helping more first-generation students see a transformational future at USF.
This gift was made as part of Changing the World From Here: Campaign for the University of San Francisco. Learn more about the campaign and how you can support students at USF by contacting Carli Thomas, Director of Development, College of Arts and Sciences, at (415) 422-6006 or cbthomas@usfca.edu.
Image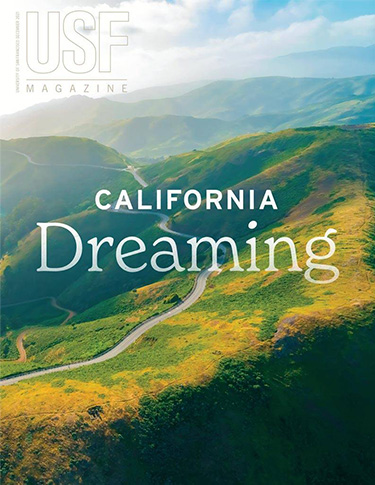 Featured in USF Magazine
This USF News story was published in USF Magazine, where you can find feature stories about university life, alumni Class Notes, and information about events at USF.