Giving
An Investment in the Pursuit of Justice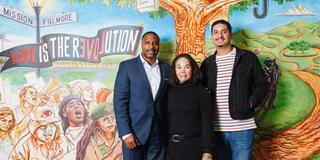 The Leo T. McCarthy Center for Public Service and the Common Good is a center at the University of San Francisco that is dedicated to inspiring and preparing students to pursue lives and careers of ethical public service and the common good. Niall and Yvonne McCarthy have given $500,000 to the center to ensure that the program endures, and to continue the investment and cultivation of USF students into ethical leaders.
"The work of the McCarthy Center creates ethical leaders in all walks of life," said Niall McCarthy. "We are in desperate need of ethical leaders and the McCarthy Center is at the forefront of that movement. It's a model for other universities on how to educate students."
A Life's Work in Justice
Leo T. McCarthy, Niall McCarthy's father, immigrated from New Zealand as a child with his family, landed in the Mission district of San Francisco, and went on to attend USF for his bachelor's and Juris Doctor. His career led him to become a state assembly member, elected assembly speaker, and eventually a Lieutenant Governor and was re-elected in 1986 and again in 1990, before passing away in 2007.
"Leo McCarthy was a statesman, a great champion for justice, a dear friend, and a purposeful mentor to me," said Speaker of the United States House of Representatives Nancy Pelosi.
In 2002, the Leo T. McCarthy Center for Public Service and the Common Good opened to provide programs and scholarships that would support community engagement and public service at the university. Over the next five years, programs expanded to Sacramento and Washington D.C.
The national expansion and cultivation of real work-life experience inspired McCarthy to continue the legacy of his father's center. Niall McCarthy shared, "it takes students and puts them in a place where they see how policy and decisions are made. They are placed 'in the room where it happens.' They get an opportunity to be mentored with some of the best leaders in America. It's a unique learning experience like no other."
Impact, Advocacy, and Reciprocity
McCarthy credits his father with three lessons that he has learned in life:
One's life is measured by the impact you make on others.
You fight for what you believe in.
What you give comes back to you many times over.
Image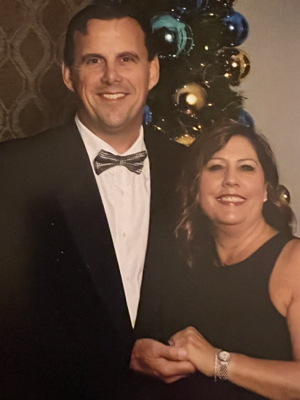 Niall McCarthy's law firm, Cotchett, Pitre, & McCarthy focuses on representing individuals against corporations. He describes his most impactful experience as a pro bono case where an individual came to them with cancer, and the insurance companies denied him a bone marrow transplant. The individual would be dead in four to six months if left untreated. The team put everything they had into the case and won. The client had surgery and lived for another nine years.
McCarthy shared, "If your life is measured by the impact you have on others, not by what you accumulate, and you aspire to leave the world a better place than where you found it, you will live a life full of purpose."
Fearless in the Pursuit of Justice
With the recent $500,000 investment in the Leo T. McCarthy Center at USF, the McCarthy family hopes that the center will continue to grow, and remain a significant part of life at the university. They are inspired by seeing the new generations of students who want to make San Francisco and the world a better place. With over seven programs, the students and faculty drive the vision of the McCarthy Center with an ethical focus on the common good for everyone.
"My Dad was best known for being fearless, he would take on any corporation, any special interest if it was a just cause. The McCarthy Center teaches people to be fearless in their pursuit of justice. It's a tremendous gift to see his legacy with the center and see what the students are achieving," said McCarthy.
---
Join the movement and help prepare students at USF to pursue lives and careers for the common good. Learn more about supporting the Leo T. McCarthy Center.