Passion for Justice
USF Donates Medical Masks, Equipment to Hospitals
Effort supports health care workers taking care of COVID-19 patients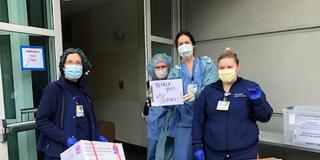 USF is donating much-needed personal protection equipment (PPE) to local hospitals in San Francisco that are caring for COVID-19 patients.
A team of USF science instructors and staff donated $5,000 worth of masks and other personal protection equipment (PPE) from the university's labs to the University of California, San Francisco Medical Center to help health care workers care for COVID-19 patients.
"We were able to collect two full carloads of items, including masks, protective eyewear, gloves, disposable gowns, and lab coats for UCSF," said Christina Tzagarakis-Foster, associate dean for sciences. "The medical staff was absolutely thrilled with what they called the 'mother lode' and had a sign prepared for when we dropped off the second load to express their thanks."
The sign said: "Thank you, USF sciences!" It was held up by a group of masked and gloved UCSF health care workers who collected the donated PPE.
Meanwhile, USF's Department of Public Safety donated 1,000 surgical masks to local Kaiser hospitals from the university's stock for the Northern California fires.
The School of Nursing and Health Professions is also donating needed PPE supplies to St. Mary's Medical Center, near campus.
Some of the items donated by the science staff came from Amgen Inc., a bio-pharmaceutical company that donates items for USF faculty and staff to use in the science labs at USF.
Tzagarakis-Foster said the idea to help the hospital to care for COVID-19 patients came from Brandon Brown, professor of physics and astronomy. His wife works at UCSF and has been reaching out to many places to find more supplies.
Tzagarakis-Foster also thanked Jeff Oda, the university's lab safety manager, and Craig Conforti, a lab instrument specialist, for their help collecting the items.
The team is also planning to donate hand sanitizer to local Kaiser hospitals.
"I think it's important for USF to help out because we are part of a larger community," said Tzagarakis-Foster. "We need to support those who need resources, which we are fortunate enough to have on hand and aren't using at this time when students are learning and working remotely. This way, hospitals can continue to provide essential services for those in need."