Engaged Learning
The New Honors College: A Hub for Innovative Thinking and Collaborative Learning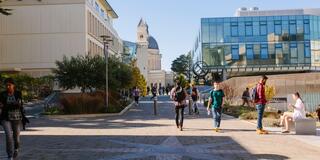 Nick Garcia and Ally Kuwana are two freshman students who might not otherwise end up in classes together. Garcia is a communication studies major. Kuwana is a biology major.
The new Honors College, launched this fall, brings them together with more than 400 other students to experience an innovative liberal arts core curriculum designed to create enriched collaboration and immersive learning across all colleges and majors.
The first of its kind at a Jesuit university, the Honors College creates a four-year curriculum pathway, taking an integrated learning and student-centered approach to meet students where they are and develop them to excel. Students are urged to think globally and locally about societal issues and pursue academic and personal ambitions like internships, research opportunities, and unique study abroad placements. It is precisely the type of innovative program drawing top students from across the nation, like Garcia and Kuwana.
"One of the main reasons I chose USF was for the Honors College," Garcia said. "I was choosing between a school in Chicago and this school. They ended up being the same price and offered many of the same things, but I liked USF's Honors College, because it's so new, and had so many innovative ideas. I wanted to be part of it.
Students who complete the four-year Honors College curriculum will receive an honors designation on their transcripts and acknowledgement of their achievements at graduation.
Heart of the University
Established with a gift from philanthropist and classical music composer Gordon Getty '56, the Honors College was created to celebrate liberal arts education across the university. Getty's vision to bring visiting artists, writers, and scholars to campus to interact with honors students and to bolster opportunities for student research, study abroad programs, and mentorships has come to fruition.
"We hope to create a holistic core, a heart of the liberal arts tradition where student will be pushed and challenged to think individually and think interdisciplinary beyond the majors and beyond a single subject," said Eileen Fung, associate dean of the Honors College and Arts and Humanities in the College of Arts and Sciences. "We want to deconstruct that discipline-centric way of thinking about the world because the professional and personal world that we live in is truly interdisciplinary."
Currently, the Honors College offers almost 20 courses, including Zen & Facing Suffering; City Life in Africa and Diaspora; and, Gun Violence, Music, and Youth.
The Honors College also has hosted talks with New York Times bestselling author Mohsin Hamid, a zen workshop with Gordon Greene, of Spring Green Dojo, and a talk with scholar and poet Li-Young Lee. Bringing changemakers, scholars, and artists to campus is a key component of the Honors College.
"At a first glance, it seems very contradictory because as a science-based major, I'm taking biology and chemistry and then switching over to go to my gateway honors class and talking about Chinese Philosophy and social issues," Kuwana said. "I think it's very important because there's value in a STEM-based education and there's also value in a liberal arts education. Having that liberal arts education through the Honors College will make me more knowledgeable about the world and about other people, which will help me become a better doctor one day and to be a better person in general."
Support from Alumni
Alumni with a combined passion for creating a better world through education, Alex Rosenblatt '00 and Kelly Jane Rosenblatt '01, were inspired by the potential of the Honors College at USF.
"The Honors College is really compelling because it brings together the top students across the university, across majors, and across scholarship lines. It will allow students to be more hybrid in their thinking as well," Kelly Jane said.
The couple is supporting the creation of the Rosenblatt Innovation Fund to fund student projects that exemplify creativity, interdisciplinarity, and USF's social justice mission. The gift will also support Honors College curriculum integration with the School of Management. "We are committed to changing the world," said Alex, "and repairing the world necessitates innovation and collaboration."
A small group, 18 of the over 400 Honors College students, who embody a commitment to collaboration and innovation, have been recognized as Getty Scholars — including Garcia and Kuwana. With this distinction, students receive financial aid and scholarships for study abroad opportunities, internship, and research assistantships, and take select honors courses with other Getty Scholars.
"It's really nice to feel valued by a university and know that they have chosen you as a student who stands out — to really equip you with the tools you need to get internships, and to be able to study abroad and to be able to have a global education," Garcia said. "It's also nice to have a community of people who are like you and love learning, achieving, and traveling."
To learn more about supporting the Honors College and its initiatives contact Rachel Cannon at (415) 422-4913 or rcannon@usfca.edu