Giving
USF Creates Honors College with $15 Million Gift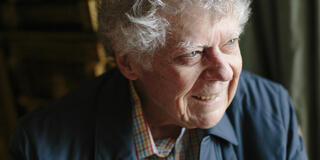 Philanthropist and classical music composer Gordon Getty '56 has pledged $15 million to the university to establish the USF Honors College.
The Honors College will launch in fall 2018 and serve as the new hub for honors students for all colleges and programs. It's being designed to attract top academic students and expand USF honors students' studies of the arts, sciences, and humanities. Accepted students will be awarded scholarships.
"The goal is to bring together outstanding scholars to share ideas," said Getty.
Getty's pledge includes a $7 million endowment for scholarships for Honors College students and a $2 million endowment for visiting artists and scholars who will teach at the Honors College. The rest, $6 million, will cover start-up costs and support student research, studying abroad, and mentoring programs. The student scholarship program will be named in honor of his father, and recipients will be known as the J. Paul Getty Honors Scholars.
Over time and with additional funding, the plan may provide for a living-learning community for Honors College students. The gift from Getty, who was the 2015 Alumnus of the Year, matches the largest-ever to USF from an individual donor and is meant to encourage other donors to contribute and help shape the initiative — which has a total goal of $35 million.
Scholarship Support for Students
"We're very excited about the Honors College and how it's going to elevate the university," said USF Provost Don Heller. "There's going to be scholarship support for students in the Honors College, which is very important, given the competitive market in which we find ourselves. This gives USF the ability to attract the best and brightest."
Recruiting top academic students will benefit the entire USF learning community and raise the university's academic reputation, Heller said.
"We are very grateful to Gordon for his lasting generosity to his alma mater and also for his creative thinking with this gift, which will directly benefit students in the classroom," said USF President Paul J. Fitzgerald, S.J. "The creation of the Honors College reflects USF's Jesuit commitment to educating the whole person."
Honoring a Jesuit Liberal Arts Education
Current USF honors student Jessica Hyman '19 was thrilled to learn about the Honors College, particularly the promise of scholarships for the students. She also liked the idea of recruiting visiting artists and scholars to teach new subjects and classes.
"An Honors College will offer students a chance to excel in their education," she said.
"It's definitely rigorous and challenging — that's what my experience has been as an honors student — but it's also been overwhelmingly positive. An Honors College will be beautifully paired with our traditional Jesuit education."
An English major, Getty said he was particularly inspired by Professor Desmond Fitzgerald. "He taught epistemology, my very favorite topic," said Getty, recalling the theory of knowledge course. "It was very interesting. How can we trust our senses? What is the process by which we know something is true?"
Getty wanted to establish the Honors College, he said, in memory of his father. When the younger Getty asked his father for advice on what to study in college, his father suggested a broad education in the humanities, which is why he chose USF.
"I asked him, should I go to an oil and petroleum school?'"
"Yes, if you want to," his father responded. "But liberal arts would do just as well. The main thing is to learn how to learn."
You can support the Honors College at USF
This gift was made in support of Changing the World from Here: Campaign for the University of San Francisco.