Giving
Helping Middle-Income Families Pay for College
Students from middle-income families often find themselves in the middle — not able to qualify for some scholarships and not in a position to pay for their entire college tuition tab.
Marcia Syufy knew she could make a difference for these families at USF. She decided to make a lasting investment in these students' lives by giving $1 million to fund an endowed scholarship at the university for students from families whose income falls in the middle range of the nation's population.
"I was reading about the middle-income families and how they are pushed at both ends, and I knew I could help," she says.
"For the middle-income student who is a good student, there isn't a lot of help, certainly without taking on enormous debt," she adds.
She grew up in Hanford, an agricultural town in the San Joaquin Valley, and attended college in Los Angeles to study fashion merchandising, before moving to San Francisco. There, she met her husband, Raymond Syufy.
Raymond Syufy was a pioneer in the movie business. He owned Century Theatres, and he challenged the anti-competitive practices of the movie distribution system from the late 1940s through the 1960s. He won, too, opening up the motion picture market to independent theaters. He died in 1995 of complications from lymphoma.
The son of Lebanese immigrants, Raymond Syufy developed his love for the movie business as a teen in Berkeley, where he worked at a local movie theatre. He attended Saint Mary's College, and the Catholic education he received there had an impact on his life, according to Marcia. Their six children were all baptized Catholic, as Raymond wished.
Later, attending Boalt Hall School of Law at Berkeley, he worked nights at a local movie theater. He opened his first theater, the Rita, at age 23 in Vallejo, eventually growing his business to a chain in the West that included 425 screens. It was the largest movie chain in the Bay Area. Today, the Syufy Group has sold off much of their theater business and invests in other family-oriented businesses, including upscale fitness centers for families.
Education, meanwhile, has always been a focus for Marcia. As her children grew up in San Francisco, the girls attended Convent of the Sacred Heart and the boys went to Stuart Hall and St. Ignatius. She was on the board at Sacred Heart for 11 years, chairing two capital campaigns and supporting the philanthropic efforts of the school.
"My primary giving is to education," she says.
Five of her children attended USF, pursuing graduate degrees or attending law school. Her sons-in-law also attended USF School of Law. Raymond Jr. MBA '91 and Joseph MBA '98 today oversee operations at Syufy Enterprises, and Elizabeth Syufy Kelly and her husband, Teke Kelly, graduated from the School of Law in 1990. Daughter Victoria Rosauer BA '90, MA '97 has degrees in counseling. Michelle Syufy Sarti and her husband, Edward Sarti, both graduated from the School of Law in 1997.
The Syufy Scholarship will support undergraduate students in good standing with demonstrated financial need. The preference will be for students from middle-income families. Families do not need to take any special action to apply for this scholarship. Funds will be made available through the regular financial aid process to those applicants who file a timely financial aid application.
Marcia Syufy's goal with the endowed scholarship is to support students from families who might not qualify for aid otherwise.
"I'm glad I was able to initiate something here," she says. "My hope is that they will be able to get a fine college education without accruing the kind of debt that can be crushing."
USF President Paul J. Fitzgerald, S.J., applauds Marcia Syufy's attention to the needs of these families, saying their challenges are sometimes overlooked.
"We at USF are so grateful for Marcia's gift to endow a scholarship for middle-income students in good academic standing," he says. "Her support of these students means they will be able to fill any gaps they have in funding their education. Her gift is so meaningful for these families."
For Marcia, the scholarship is her vote of confidence in these students.
"I just hope they use it well and have a successful, rewarding career," she says. "I consider myself very fortunate to be able to do something like this so that these kids can have a good education."
Gifts from USF donors are changing the world, one student at a time.  Learn more about scholarships
This gift was made in support of Changing the World from Here: Campaign for the University of San Francisco.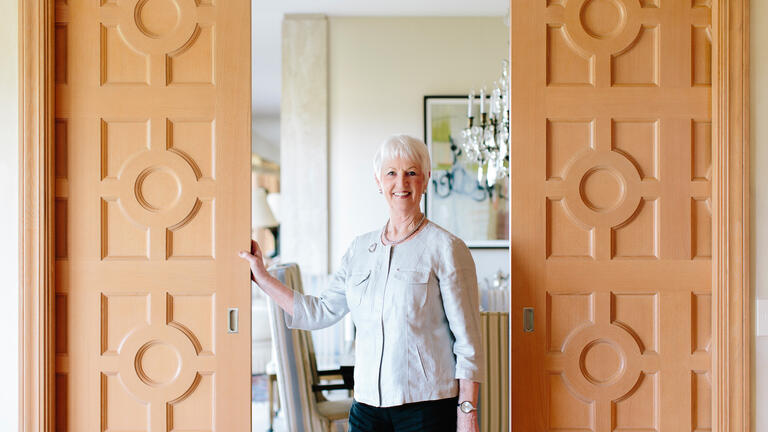 Marcia Syufy, a USF parent, is opening doors for students at the university with a $1 million gift to fund an endowed scholarship.