Giving
A Gift to Touch the World: Hamill Gives One Million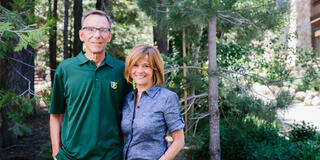 Chair Emeritus of the board and alumnus Stephen Hamill '78 and wife Janice have pledged one million dollars to the University of San Francisco School of Law. The committed and philanthropic family has contributed to the School of Law for nearly 40 years, including creating the Hamill Family Chair of Law and Social Psychology and the annual Hamill Family Lecture. Their recent gift supports the USF School of Law Justice Center Facility Fund, established a School of Law Visiting Professor of Practice Fund, and contributes to capital enhancements.
It's Personal
When Hamill looks back at his initial experience with the School of Law, he remembers evening classes and working full-time as he had a young family.
Attending the School of Law was tremendously beneficial for him and ultimately it would become the decision that transformed his life.
"It's personal. It changed the trajectory of my career and my life, just by gaining that knowledge that was provided there," said Hamill. "It didn't just open up windows, but doors of opportunity. You're in a better place."
After Hamill graduated, he wanted to maintain the relationship with the School of Law. Both Janice and Stephen wanted to give, and gave what they could. These days, they are major donors to the university.
Stewards of the Law School
Though Hamill has served on the University's Board of Trustees for nine years, four of them as chair, his philanthropic focus has always been the School of Law.
"It started with giving to the clinics then to scholarships and to faculty/staff positions. My focus will be where the School of Law has priorities and how I can help accomplish its objectives and goals. We want to give where we can help the school get to where it needs to go," said Hamill.
Hamill's most recent pledge of $1 million will support Zief Library renovations which will move law clinics from Kendrick Hall into the library. The gift will also help fund a visiting professor and the remainder of the funds will be used for capital enhancement to support facilities.
"Steve and Janice's generous support will take the law school to the next level by helping us house our ground-breaking clinics in a state-of-the-art Justice Center in Zief Library. The Visiting Professor of Practice, jointly funded with a gift from another generous supporter, will add depth to our curriculum and enhance our graduates' skills with additional courses in corporate and securities law," said Dean Susan Freiwald.
Whether it be the curriculum, social justice, or providing opportunities for students to serve actual clients, Hamill is most excited to be investing in a place that emphasizes a legal education with moral integrity.
"I'm excited about the emphasis not only on great lawyers but developing great human beings, and furthering their clients to benefit the larger society," said Hamill. "That's the difference that really attracts us to the School of Law. It creates a vibrant place, ready to make the world a better place."
Giving a Wider Perspective
Philanthropy is important for both Stephen and Janice Hamill, and as parents, they have shared their perspective on the value of giving with their children.
The Hamill family approaches their decisions on giving as a family unit, welcoming their kids' perspectives. "They participate in the charitable fund that we set up, and they initiate gifts from the fund as well," said Hamill.
He encourages his family to ask themselves: "How can I use my money for others and make the world a better place?"
The Hamill family wants to make a positive impact, and for Stephen and Janice, it has always been the School of Law that provides so many avenues to make a difference.
"It personally touched my life, and contributing to the School of Law touches the world in a positive way."
---
Join us on April 19 for a conversation led by Professor Roland Fryer on racial difference in the use of force at the Hamill Family Lecture. Register here.