Giving
Fourth Annual Day of the Dons Breaks Records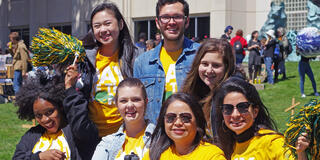 More than 2,000 USF supporters contributed this year to the Day of the Dons, the university's annual 24-hour day of giving, shattering the record for the event's largest number of donors.
At the 1,500-donor milestone, a $350,000 gift from the USF Board of Trustees was unlocked, pushing the total raised from alumni, parents, friends, students, faculty, and staff to $760,609.
The money raised will benefit USF students by funding 80 different scholarships, academic programs, athletics initiatives, and schools on campus.
This year's Day of the Dons saw 19.5 percent more donors and raised 31.5 percent more in total donations than last year. The success was due to the vast amount of support from staff volunteers and donors alike, in addition to new methods of promotion that were implemented for the day of giving campaign.
"In this, our fourth year, more and more people were aware of the day — even anticipating it in advance. I love getting asked about Day of the Dons," said Martin Scherstuhl, director of Annual Giving for USF. "Plus, we listened to last year's feedback from some alumni who said they wished they had a little more lead time. This year, we started to promote the campaign earlier than ever."
This year, GiveCampus, an interactive online and mobile platform, was used for the first time on the day of giving. It allowed visitors to create their own challenges, and showed where USF supporters were giving, reflected on heat maps of the 50 states and ranking systems for alumni classes.
Contributions from 40 states and multiple countries were received in the 24-hour period.
The School of Law and Athletics departments each had connected campaigns that received support and helped the Day of the Dons reach its overall success. Both surpassed their goals early on in the day.
The School of Law raised $73,311, nearly double its original goal of $40,000. USF alumnus and trustee Gregory Blaine JD '91 matched $20,000 for the School of Law.
"Our results are incredibly inspiring as they show that our alumni leaders are deeply committed to the success of their law school," said Michelle Sklar, associate dean, Development and Alumni Relations. "Hitting our goal early in the day motivated everyone to keep the momentum going and alumni, faculty, and staff are already talking about how to increase results further next year."
Athletics, meanwhile, raised $208,153 more than five times its original goal for the day of $35,000.
"We want to say thank you to all of our USF Athletics supporters and fans for giving on Day of the Dons and always," said Carli Thomas, assistant athletic director for Development.
Dozens of staff and students from departments across the university worked to keep the momentum going and supported Day of the Dons. Next year, the goal is to get more alumni and supporters involved and also expand the partnerships across the university as part of the Day of the Dons.
"I give back every year," said alumnus Matt Nazario-Miller '15 on an Instagram post, "because, as a financially unstable undergraduate, it was efforts like this that helped me to persist and achieve more than I ever thought possible."
you can make your gift to the University of San Francisco
These gifts were made in support of Changing the World from Here: Campaign for the University of San Francisco.