Passion for Justice
USF Professor Brings More Equity to Education
He created a new curriculum out of his experience as a student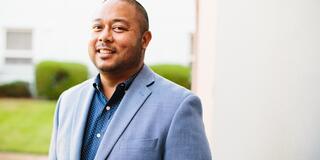 Patrick Camangian dropped out of high school in Los Angeles after being caught fighting. At 23, when he got into more serious trouble, he realized that education was the only thing that would save him.
It wasn't easy. Camangian says schools didn't provide a sense of equity — freedom from bias or favoritism — when he was in high school and throughout his early college years. He got his high school equivalency diploma and spent nearly seven years in community college. He spent another 18 months at Cal State University, Los Angeles, before becoming an English teacher at Crenshaw High School.
An article in the Los Angeles Times about how he used rap to bridge the education gap drew the attention of UCLA, which recruited him for its doctoral program.
"What I wanted was a purpose," said Camangian, 45, now a professor in the USF School of Education. "I wanted to be the type of teacher who would have helped me."
A New Approach
For all of those students who want the type of teacher who might help them, Camangian created a framework — a plan — to teach with equity in all subject areas and across all grade levels, taking into account all students' learning experiences.
The framework was adopted by the San Francisco Board of Education on Sept. 10 in support of implementing what Camangian calls "humanizing learning experiences" for all San Francisco Unified School District (SFUSD) students.
By humanization, Camangian means education should include "knowledge and love of self, solidarity between communities and with the most marginalized, and self-determination in claiming an intellectual identity."
Be Seen and Heard
An Equity Studies Team will be established in SFUSD with curriculum leaders in all subjects who will implement the framework to ensure all students are seen and heard in their coursework and that each student's heritage is celebrated.
"As the daughter of immigrants and the first in my family to go to college, this is very personal to me," said SFUSD Commissioner Jenny Lam, a co-author of the district's resolution adopting Camangian's framework. "I didn't have access to this curriculum until college. It opened me up not only to my history but to equity issues in society."
For Camangian, the SFUSD resolution adopting his framework has been a long time coming.
"To have a framework, to get visibility for it — and have school board members to write a resolution about it?" said Camangian. "It feels incredible."