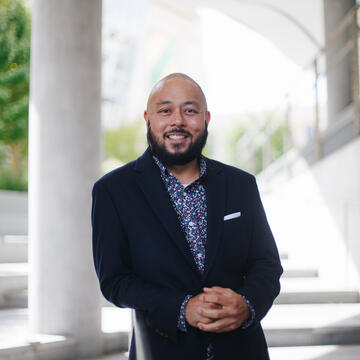 Patrick Camangian
Professor, Teacher Education
Biography
Patrick Camangian, PhD is a professor of Teacher Education at the University of San Francisco. Patrick's interdisciplinary research on humanizing education intersects critical and culturally relevant pedagogy, critical literacy, and health science research. Patrick pursues these areas of research to improve teacher quality, capacity, and retention, as well as to inform policies and practices impacting urban schools and communities. He has been working in schools since 1997, continuing in the tradition of teacher action research, applying cutting-edge pedagogies in schools, and more recently, informing district-wide policy and practice through social design research and collaborations in the San Francisco Bay Area.
Expertise
Urban Education
Pedagogy
Literacy
Critical Wellness
Teacher Quality, Capacity, and Retention
Research Areas
Critical and Culturally Relevant Pedagogy
Social Transformation through Education
Humanization through Education
Health Science Research in Education
Critical Qualitative, Action, and Social Design-based Experiment Research
Appointments
Project Lead, California Educator Preparation Innovation Collaborative (CalEPIC) at USF, 2021-Present
Teacher Education Department Chair, 2018-2021
Coordinator of the Master of Arts in Teaching: Urban Education and Social Justice (MAT: UESJ), 2016–2018
Associate Professor (Tenured), 2014-2021
Assistant Professor, 2008-2014
Education
UCLA, PhD in Urban Schooling, 2009
CSULA, BA in Communication Studies & English Education, 1999
Prior Experience
Scholar Advisor & Co-Chair, Humanization Professional Learning Community & Equity Studies Professional Learning Community: San Francisco Unified School District, 2018-Present
Visiting Professor, University of California at Los Angeles, Vice Provost Initiative for Pre-College (VIP) Scholars Program, 2014-Present
Secondary English Teacher and Program Co-Director, East Oakland Step-to-College: Oakland Unified School District, Oakland, CA, 2009-2016
Secondary English Teacher, Crenshaw High School, Los Angeles, CA, 1999-2007
Elementary Teaching Assistant (Paraeducator), Van Ness Elementary School, Los Angeles, CA
Awards & Distinctions
University of San Francisco Community Distinguished Research Award, 2022
University of San Francisco Community Engaged Learning Faculty Award, 2020
American Education Research Association, Critical Educators for Social Justice (CESJ) Scholar Activist Award, 2016
University of San Francisco Distinguished Teaching Award, 2011
American Education Research Association, Curriculum Studies Dissertation of the Year Award, 2011
Most Inspirational Teacher Award, City of Los Angeles (mayoral recognition), 2006
Selected Publications
Camangian, P. R. & Stovall, D. (2022). Bang on the System: People's Praxis and Pedagogy as Humanizing Violence. Urban Education.
Camangian, P. R. (2022). Loving (Lumpen) Masculinities: Teaching to Transform Heteropatriarchy, Toxic Masculinity, and Urban Misogyny. Equity & Excellence in Education, 54(3), 345-358.
Camangian, P. R., Philoxene, D. A., & Stovall, D. O. (2021). Upsetting the (Schooling) set up: autoethnography as critical race methodology. International Journal of Qualitative Studies in Education, 1-15.
Camangian, P. R. (2021). Let's Break Free: Education in Our Own Image, Voice, and Interests. Equity & Excellence in Education, 54(1), 28-38.
Camangian, P. R. & Cariaga, S. (2021). Social and emotional learning is hegemonic miseducation: students deserve humanization instead. Race Ethnicity and Education, 1-21.