Diversity
Danny Glover Speaks at Critical Diversity Studies Forum
Fifth annual forum sparks conversation on nonviolent activism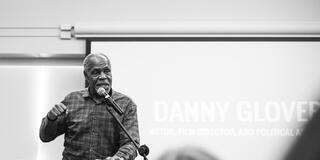 Actor and activist Danny Glover encouraged students to remember the legacy and dream of Martin Luther King Jr. at USF's fifth annual Critical Diversity Studies Forum on Sept. 25.
Glover, speaking to an audience of about 150 in the McLaren Complex, outlined King's growth as a civil rights leader and imagined that if King were alive today he'd be a voice in everything from global warming to the Black Lives Matter movement.
"King's dream has to remain buoyant, has to remain resonant, has to remain imaginative in us, right here," Glover said.
The theme of the Critical Diversity Studies Forum, which aims to create conversations around current issues, was "Stones of Hope: Nonviolent Activism Built on Legacy and Imagination." Other speakers presented on topics like Native Californians and cultural shifts within the United States.
This year's theme was chosen in connection with the police shooting of Michael Brown, an unarmed black teenager in Ferguson, Mo. Brown's death sparked protests around the country. 
"There is so much violence in society right now," said EJ Jung, a co-chair of the forum and a USF computer science professor. "We wanted to bring in speakers and performers who could help us keep our hopes up."
Previous years have spotlighted issues like gentrification and immigration.
"This is one of the reasons I love being a student here at USF," said Jaclyn Knitter '16, a politics major and Asian Pacific American Studies minor who helped put on the forum. "To be part of these programs, to meet some of these people who are out in the world making change and coming back to represent change in the university — I feel it's a rare opportunity not a lot of students get to experience."
Know someone with a powerful USF story? Let us know! usfnews@usfca.edu | Twitter @usfcanews