Campus Life
Help Arrives in a Time of Crisis
Students begin receiving emergency grants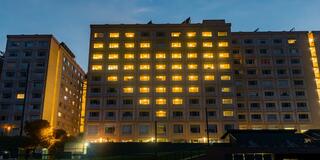 The messages from students are filled with praying hands and smiley face emojis. One mother from Hawaii called to ask if the Coronavirus Aid, Relief, and Economic Security Act (CARES) grant was for real — her son was afraid to accept it because it seemed too good to be true.
This "makes a huge difference and saves me this summer," said one undergraduate after receiving a grant.
In the midst of the coronavirus crisis, a bright spot emerged May 18 as students began receiving funds to help cover expenses including books, computers, housing, health care, food, and childcare.
"The stories we have received of needs from students struggling to complete their education in the midst of the economic calamity caused by COVID-19 are heart-wrenching," said Michael Beseda, vice provost for strategic enrollment management at USF.
A total of 3,200 USF undergraduate and graduate students were offered CARES Act grants ranging from $500 to $1,500. The grants came from $3.6 million provided by the U.S. Department of Education exclusively for direct financial assistance to students. The emergency funding was based on financial need as defined by the Free Application for Federal Student Aid (FAFSA).
Another 1,200 students — including USF's DACA-identified and undocumented students who are excluded from CARES Act eligibility according to guidelines developed by the U.S. Department of Education — were offered grants through USF's COVID-19 Response Fund. This philanthropic fund includes significant contributions by members of the USF Board of Trustees and as well as more than 400 other donors, who together have committed more than $1 million to the effort.
To find out how to qualify for emergency funding, contact Michael Beseda at mbeseda@usfca.edu