Conference Reflection: 14th Annual Hawaii International Conference on Education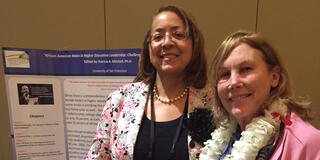 While many USF students and faculty were taking a much-needed rest during Winter Break, a small contingent of seven USF SOE students, one alumna and a faculty member crossed the Pacific Ocean to participate in the 14th Annual Hawaii International Conference on Education (HICE) in Honolulu. They joined 1300 other participants representing more than 34 countries to share their research across disciplines.
The Hawaii International Conference on Education aims "to provide an opportunity for academicians and professionals from various education related fields from all over the world to come together and learn from each other." For many of the USF presenters, several of which are return attendees, the conference, coupled with the setting and new year timing all create a sense of renewed energy towards their respective research.
First time poster presenter, Feodora Jacobsen, was able to share findings from her thesis "Workplace Violence in Acute Hospitals: Recommendations for Prevention and Nursing Education." She found that her research applied to both lower grade teachers and acute hospital nurses due to the workplace violence both groups regularly experience – violence deemed as an unavoidable part of their work. Jacobsen also participated in a panel presentation titled: "Emerging Research Issues in Organization and Leadership: Workplace Violence, Organizational Culture and Incident Reporting," where she was able to answer questions around her thesis research. 
Third time attendee, Kevin Lovelace presented his study "The Effects of E-Leadership Constructs: Development of Virtual Teams in a Healthcare Organization." The work was initially inspired by a personal connection Kevin had with family members in the healthcare industry that have had to adapt to new technologies. His goal was "to begin to understand how leaders faced with using emerging technologies communicated with those in their organization." He now seeks to develop trainings for leaders at all experience levels to effectively roll out new technologies in their organizations.
Seventh time attendee and USF Alumna, Dr. Cynthia Rapaido presented her study "Educational Leaders' To-Do List: Building School-Family-Community Relationships to Promote and Engender Students' Cultural and Social Capital." Her research was motivated by her experiences as a new principal of a South San Francisco high school and a desire to leverage this "perfect opportunity to start building relationships and bridging the cultural and social gaps to improve students' academic achievement." Dr. Rapaido worked with Dr. Patricia Mitchell, associate professor of Leadership Studies, who also presented her research "Developing a Community of Trust and Inclusiveness by Increasing Leaders' Awareness of Race and Privilege" and "African American Males in Higher Education Leadership: Challenges and Opportunities," in organizing social events for the USF contingent at the Conference.
Other USF Presenters:
Jasmeer Basi: "Raising the Minimum Wage: Organizational Implications to the U.S. Economy"
Rebecca Loboschefsky: "E-Mentoring: Enhancing Pre-Service Female Teacher Preparation Field Experiences in the K-12 Classroom" and "Educational iPad Apps for Assessment Proposal"
Adrian Peterson: "Dynamic Leadership Styles of Catholic School Principals"
Susan Stryker: "An Exploratory Assessment of the Language of Women in Executive Leadership" and "Beneficial Leadership and the Language of Corporate Social Responsibility"
Kim Westerman: "Mindfulness Matters: Graduate Students' Experience of the Academic-Writing Process"
We hope to see these and more at next year's Hawaii International Conference on Education!