Giving
A Community Inspired By Change: The President's Ambassadors Giving Society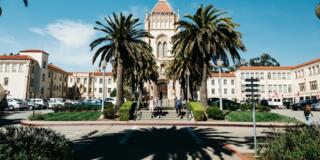 In the spirit of USF's mission to change the world, the President's Ambassadors giving society is one of the many organizations at USF that is facilitating necessary support for the university community.
The President's Ambassadors giving society is proud to recognize the accomplishments and dedication of its annual donors by celebrating those who give more than $1000 per year, as well as current students and young alumni who donate at special giving levels. 
As a reflection of their gratitude, the President's Ambassadors giving society provides donors with unique opportunities to engage in wide-ranging and exclusive experiences. 
These benefits are in accordance with the various levels of giving, which range from the Student Ambassador level (annual donations of $50 or more, exclusively available to current USF students) to the President's Circle level (annual donations of $25,000 or more). 
The benefits include, but are not limited to, a President's Ambassadors graduation regalia medal, a President's Ambassador's Membership card, invitations to select USF events, discounts at the USF bookstore, and concierge services. 
Hannah Mora '10, a member of USF's Alumni Board of Directors, participates in the President's Ambassadors giving society at the Ambassador level. Her gifts to USF date back to 2014. She says the inspiration behind her original gift was because of the powerful impacts the university had on her development. 
"In my junior year, I was a beneficiary of the annual senior gift, which allowed me to travel to Uganda to work with a nonprofit organization focused on human trafficking issues. That trip completely altered my perspectives and led me to continue my studies in the international humanitarian field," Mora stated.  
Mora urges others to join the President's Ambassadors giving society because of the community it fosters between both donors and the greater USF community. 
This is especially beneficial for younger graduates because all members are invited to annual events to network and build relationships with a vibrant alumni community. 
After all of these years, she continues to donate because she strongly believes in the value of a USF education and the university's mission to work towards a more humane and just world for all. 
"By becoming a part of the President's Ambassadors giving society, not only are you contributing back to USF, but you are also joining a warm community of like-minded donors who believe in the value of all that USF and its entire community of students, faculty, and staff have to offer," she stated.
In light of the trials that the world has faced this year alone, Mora hopes that more people begin to recognize the potential transformations that are possible as a result of giving societies like these. 
Regardless of the monetary amount each donor is able to give, all gifts have value and the power to support and impact the USF community in limitless ways. 
"The spirit of USF lives on through the people who continue to engage with the university's mission, and this is a great way, if you have the means, to do that," she states.    
Are you interested in joining the President's Ambassador Giving Society? Join today and learn more about USF's Giving Societies »