Giving
Celebrating the Spirit of Giving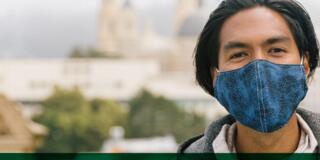 On December 1, 2020, the university community rallied together for Giving Tuesday and raised more than $70,000 in donations to celebrate USF's mission to Change the World From Here.
Each year, Giving Tuesday, the first Tuesday after Thanksgiving, sparks a global day of celebrating philanthropy and generosity across the world. 
The consistent financial support from members within the university community has allowed USF to develop into the globally recognized institution that it is today.  
Providing Resources for Mobility
For many past and present students, scholarships have opened doors of opportunity that weren't made available to them before. 
With over 2,100 scholarship funds, the university provides vital support to students in need of financial assistance, including those from traditionally underrepresented populations. 
In fact, first-generation students make up 32% of the first-year student population and more than a third of the alumni community. As a result of university donations, the USF community has grown in significant ways throughout the years. 
Philanthropy has played an integral role in helping the university to increase social mobility and promote the success of students from diverse socio-economic backgrounds. 
Transcending Boundaries
This year, the university set out to raise $20,200 on Giving Tuesday and greatly surpassed that initial goal. 
Donations continued to rise throughout the 24-hour day of giving in support of USF students who are using their Jesuit education to make change in our world.  
With this support, USF can equip students with the tools and experiences that will empower them for years to come, such as the USF Arrupe Immersion programs, the Leo T. McCarthy Center, the Institute for Nonviolence and Social Justice, the Black Achievement, Success and Engagement Initiative, the Honors College, first-year seminars, and more.
Generosity arrives in all shapes and sizes, and each donation that was given this year has the potential to initiate powerful change. 
"The power of philanthropy is alive and well at USF and it is days like Giving Tuesday where we can see the generosity and steadfast spirit of our community in action. We are grateful to the hundreds of supporters who invested in our students and the greater USF community as part of this national day of giving," shared Chantel Smith, Associate Vice President of Annual Giving and Operations.
Doing good for others is an integral part of what it means to be a USF Don, and each year the community continues to prove that its spirit of generosity lives on. 
To join Giving Tuesday donors in honoring the accomplishments and goals of the USF community consider making a gift in support of Changing the World From Here: Campaign for the University of San Francisco.