Campus Life
Celebrating Sukkot by Welcoming Others
An opportunity to embrace faith and talk about the social justice issues of our time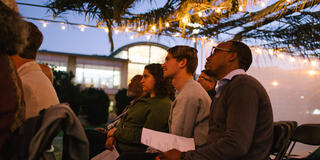 USF's Swig Program in Jewish Studies and Social Justice (JSSJ) is celebrating the Jewish holiday Sukkot with eight days of guest speakers, performances, and shared meals inside a "sukkah" — a temporary structure of metal and mesh on Welch Field. Aaron J. Hahn Tapper, director of the Swig Program, envisions the event as opportunity for conversations about important subjects like racial justice, environmentalism, immigration, and mass incarceration. 
USF News spoke to Hahn Tapper about the event.
What is Sukkot?
Sukkot, also known as the Feast of Tabernacles, is a Jewish holiday signifying the harvest season and celebrating the Exodus from Egypt, when Moses led the Israelites from slavery to freedom.
A large, tent-like structure has been erected next to St. Ignatius Church. What is that?
During Sukkot, it's customary to build a sukkah, a temporary dwelling that is — according to tradition — similar to the shelters built by Israelites to live in after escaping from Egypt. People share meals and sometimes sleep in the sukkah during the holiday.
USF's JSSJ program and The Kitchen, an innovative San Francisco startup that functions like a synagogue, built a sukkah on Welch Field, one of the most visible places on our campus. Our sukkah has transparent mesh walls and a "roof" made of palm fronds and clippings from shrubs around campus. It's designed to embody openness, reminding us to welcome others both literally and spiritually. It's a great representation of USF's Jesuit mission to work toward the common good, serve others, and embrace diverse faiths and cultures.
What do racial justice, environmentalism, immigration, and mass incarceration have to do with Sukkot?
Traditionally, this holiday embodies the value of welcoming the other. For some this means sharing meals with people in the community inside a sukkah. But it can also be interpreted as a time to feed people's minds — a time to fill people's souls with ideas about social justice.
From Oct. 4 to Oct. 11, we're having guest speakers and performers who will nourish our USF community intellectually and spiritually. For example, on Oct. 9 Reggie Daniels '12, MS '14, who works with youth at the San Francisco County jail, will speak about how people can create sustainable relationships of support after being incarcerated.
Why is the Swig program focused on Jewish studies and social justice?
Jews have been on the margins for most of history. The Swig program utilizes Jewish history, politics, culture, philosophy, and language to better understand and strengthen other marginalized communities around the globe — like refugees who are fleeing the war in Syria.
Know someone with a powerful USF story? Let us know! usfnews@usfca.edu | Twitter @usfcanews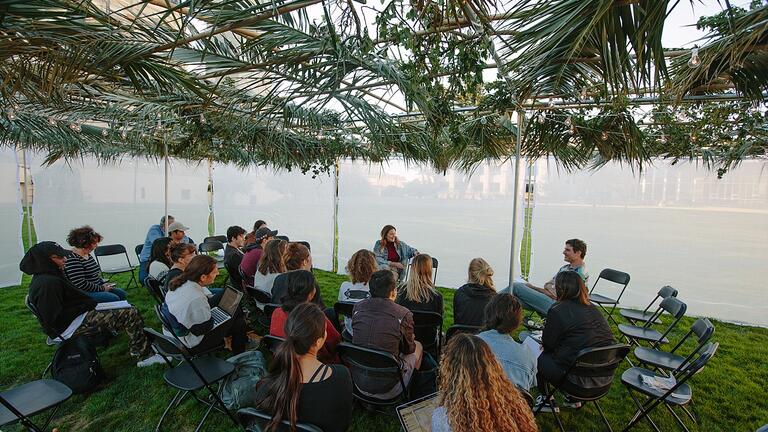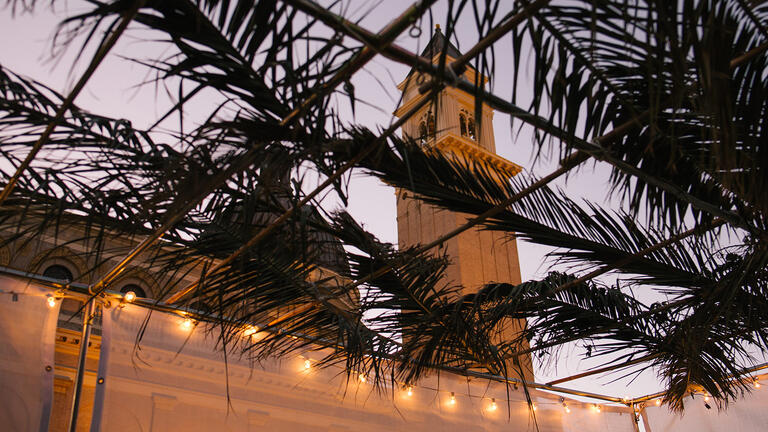 A group of about 20 gathered in the Sukkah, listening to a lecture
View of sukkah palm frond roof from below