Campus Life
Celebrate Mother Earth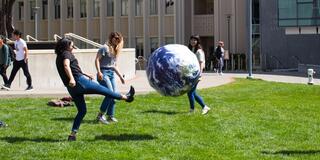 Here are four ways to mark Earth Day at USF.
On April 21, 11 a.m. to 1:30 p.m., head to Gleeson Plaza for USF Earth Day with live music by Pocket Full of Crumbs and giveaways of fresh produce, succulents, seeds, and Earth Day T-shirts that you can tie-dye there.There will also be a raffle for San Francisco Giants tickets and crafting tables for watercoloring and a project using recycled water bottles.
The event, sponsored by the Office of Sustainability and the ASUSF Student Senate, will show how to be a better steward of earth. Learn more, too, about what student organizations, academic programs, and community partners are doing to promote sustainability. If it rains, this event will move to University Center's first and second floors.
For the rest of April, USF students, faculty, and staff are invited to join an Environmental Justice Call to Action. Learn what environmental justice is and learn ways to support it — land, air, and water.
On April 22, 11 a.m. to noon, Alice Kaswan, professor and associate dean at USF School of Law, will speak on California climate justice. California includes environmental justice provisions in its climate laws but it has struggled to realize environmental justice goals, Kaswan said. 
On April 29, 11 a.m. to noon, Donal Godfrey, S.J., and Erin Brigham of the Lane Center for Catholic Social Thought will share the ecological vision of Laudato Si', Pope Francis' 2015 call to care for our common home. They will discuss ways to integrate this encyclical into our daily lives.